Case Study: Cost-efficient and High Quality CEP & CER Writing for Global Medical Device Companies
Background – Client Needs:
Multiple global manufacturers of specialty pharmaceutical products and dental equipment and imaging products required support for clinical documentation, authoring Clinical Evaluation Reports, Clinical Evaluation Plans, and Literature review reports. Clinical evaluations were required for new entries to the market requiring initial CERs, legacy devices and even entire device families. Clinical Evaluation Reports document the results and clinical evidence derived from the clinical evaluation of a medical device and must be a part of the CE technical documentation relating to the concerned device.
The scope of Celegence activities was to create end-to-end clinical evaluation reports. This included creation of the CEP including detailed search strategies for searching device specific literature on scientific databases and adverse events on safety databases, and a robust state of the art review to complement the gathered evidence. The team was expected to summarize all manufacturer held data including claims, non-clinical tests, clinical investigations, and post-market surveillance data. All of the gathered evidence was to be analysed in accordance to Essential Requirements and General Safety and Performance Requirements.
Project Initiation & Key Objectives:
The clients chose to leverage Celegence's team of CER experts to support the CEP and CER Writing projects based on our extensive expert network and ability to complete the project in a cost-efficient and timely manner.
These projects included devices with various risk classifications. The scope of Celegence Deliverables included:
CEPs

New CERs

CER Remediations

Literature Review Reports
Celegence Solution & Approach:
Celegence partnered with clients to conduct the following activities:
Author CEPs and CERs in compliance to EU/MDR 2017/745 and MEDDEV 2.7/1 Rev.04

Create search strings for extensive search of available literature

Generate detailed Systematic Literature Review workflows to analyze collected literature

Assess adequacy of clinical data based on Product history, Pre-clinical and Clinical studies, Complaints, Adverse Events, and evidence gathered from Literature and State of the Art review.

CER Reviews by Therapeutic Area experts
CERs were authored by experienced resources and reviewed by Therapeutic Area experts. Celegence has delivered high quality clinical documentation which includes an end-to-end process involving the right stakeholders to achieve:
>98% quality & timeline delivery performance despite tight timelines

Improved compliance based on guidance from Celegence's regulatory experts
Key to the success of the partnership was the process of involving experts and experienced resources with proper quality control measures in building the CERs. Furthermore, having a complete understanding of CER requirements resulted in faster turnaround time and minimal review comments.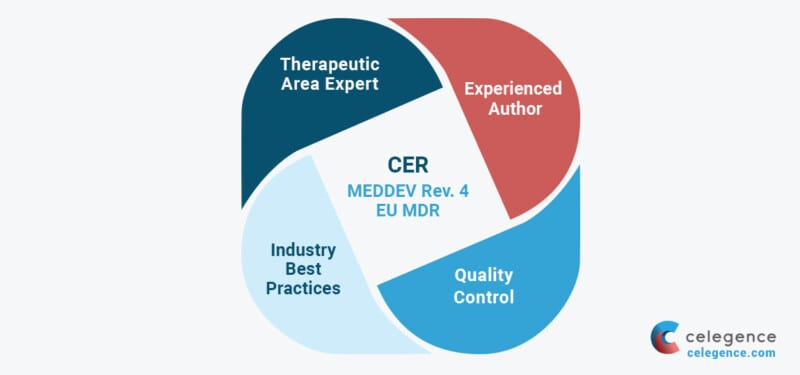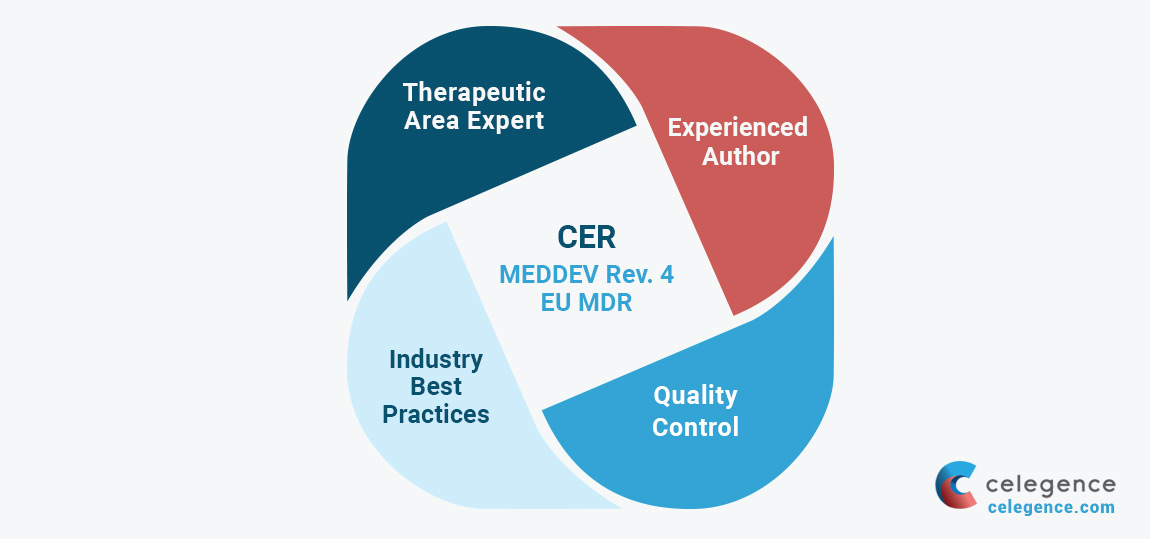 Celegence has a wealth of knowledge to help you navigate through the complex regulatory challenges brought forth by the EU MDR. We can assist you throughout the entire process to ensure that you and your business are compliant with all EU MDR requirements.
Find out more information on Celegence's Regulatory Intelligence capabilities and support for medical device registration