Trusted by the most innovative organizations





CAPTIS™ streamlines all MDR & IVDR document creation. The system can be used to create multiple types of reports more efficiently, including CERs, PERs, SSCPs, and PSURs.
The CAPTIS solution allows your team to write PMS documentation in much less time and avoid constant revisions. It not only improves efficiency and quality of medical writing teams, but also allows your project manager to quickly understand status throughout the entire project.
The 4 modules of CAPTIS include workflows to ensure your medical writing processes become more efficient:
See how CAPTIS can help you as a…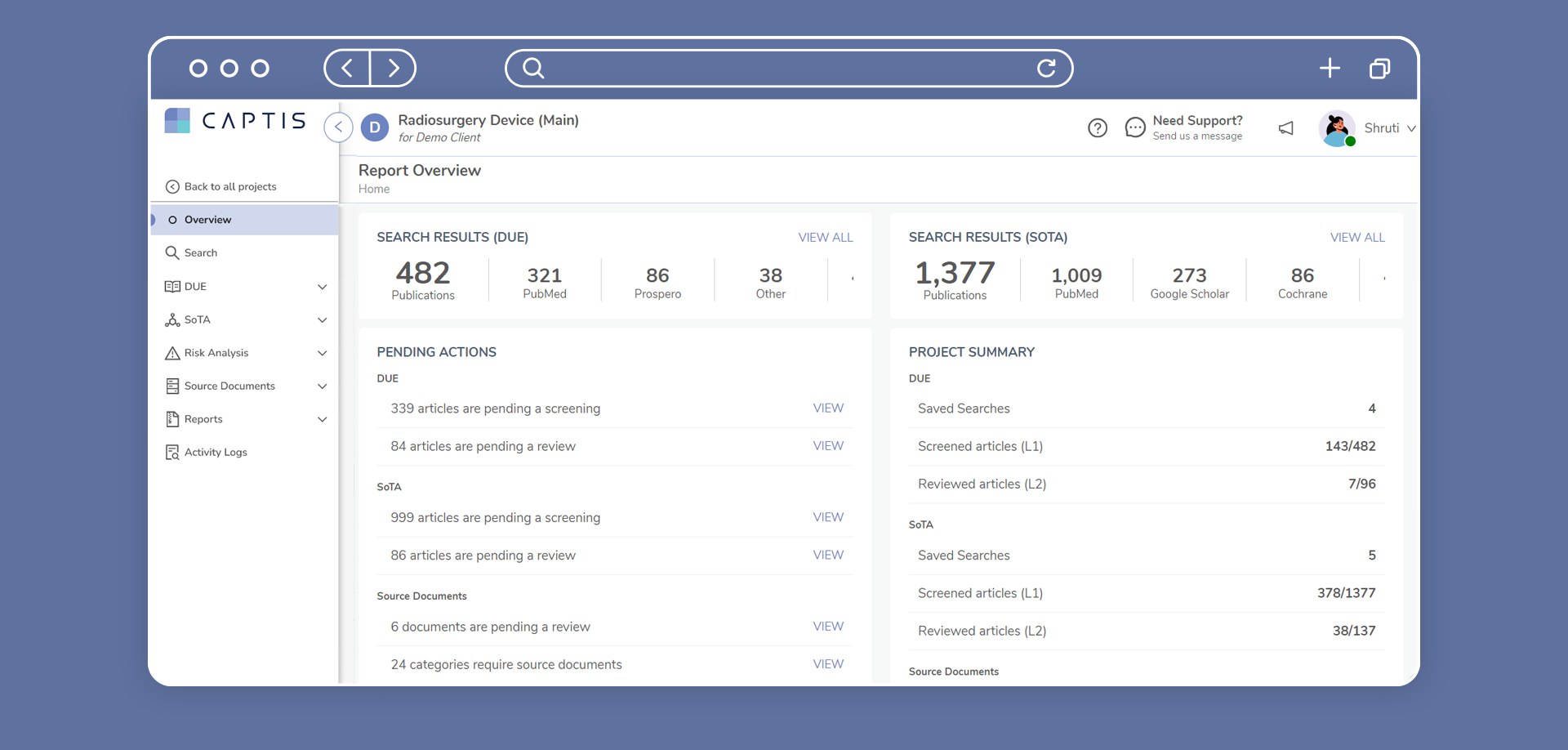 Reduction of Manual Effort: Integrations with Literature Databases, automatic capture of all article metadata upon saving a search, dedicated State of the Art workflow, automatic duplicate detection and open-access PDF downloads, integration with FDA MAUDE and TPLC Databases etc.

Traceability: Audit trail of previous actions to ensure quicker Notified Body turnaround time

Quality & Consistency: Templates ensure information across documentation is presented consistently; easier abbreviation and reference management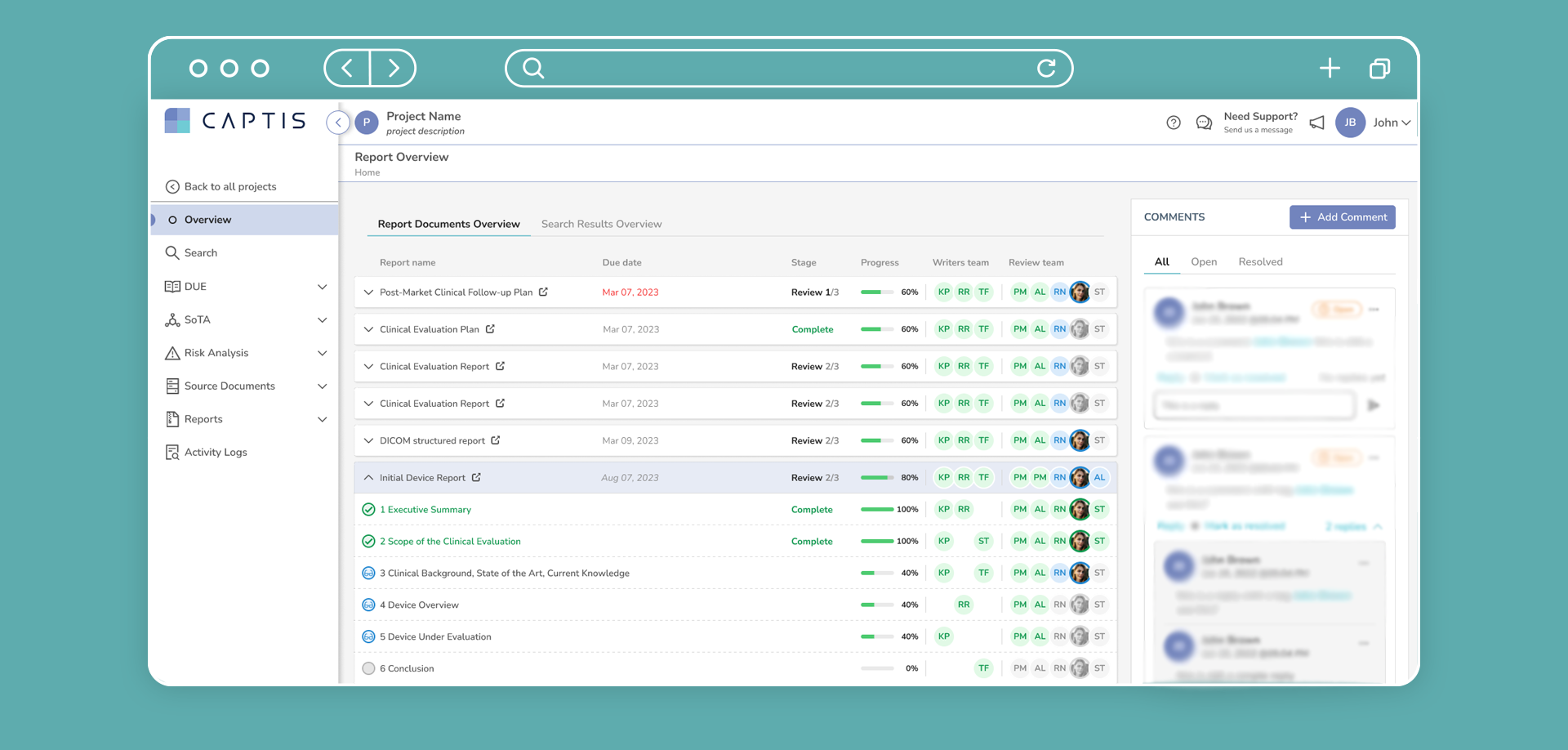 Project Visibility & Data Control: Regardless of how work is getting done, maintain ownership and access of project data including historical archives

Compliance: Update templates according to Notified Body feedback and benefit from Celegence's expert team's knowledge

Quality: Increase consistency across reports with data dictionary and templates

Easier Maintenance & Knowledge Management: Centralized repository with prior versions, history and audit trail maintained in the system; making the process less people-dependent
With thorough knowledge of all aspects of medical writing, we offer an unparalleled end-to-end solution to ensure that you stay on track with post-market surveillance documentation.
Here are the features CAPTIS has to offer:
Source Document Management
Source Document Management
Information consistently represented across your PMS related reports;
Simplified review process for Notified Bodies.
Literature Search Database Integration
Literature Search Database Integration
Highly efficient literature reviews and reduction of manual effort with Literature Search Database integration and simple article management.
Adverse Event Databases Integration
Adverse Event Databases Integration
Integrated with TPLC, Maude and other adverse event databases for higher efficiency in adverse event analysis, especially when volume of data is high.
Article Audit Trails
Full traceability of reviews and analysis conducted to support NB audits.
Predefined Templates
Maintain consistency across documentation by using predefined templates with relevant data required for your final reports.
Document Lifecycle Management
Document Lifecycle Management
Reduced rework and resource burden for ongoing maintenance activities of CERs, PMCF reports, PMSRs, etc.
Data Dictionaries
Verbiage tied to specific words or phrases can be added to a master dictionary for easy re-use and consistency increasing speed and consistency in report writing.
Collaboration Tools
Keep projects on track and ensure that the right information is shared at the right time among project managers, writers, and subject matter experts.
Bulk Import of Search Data
Bulk Import of Search Data
Cut time spent on collating data with bulk imports of search data.
Customizable Data Collection Forms
Customizable Data Collection Forms
Automatically updated summary tables thereby reducing human error
Mirroring sections in Document Creation
Mirroring sections in Document Creation
Sections or text that should remain consistent across different documentation gets mirrored to give you consistency across documentation.
Automatic Full-Text Retrieval
Automatic Full-Text Retrieval
Automatic retrieval of full-text articles saves time for medical writers.
FEATURE
CAPTIS™
OTHER SOLUTIONS
BENEFITS
Improved data retrieval via PubMed and Google Scholar

✓

✕

Improved metadata + higher percentage of full text PDFs are retrieved by cross-checking against two databases (PubMed and Google Scholar)

Option for separate but intertwined SoTA (State-of-the-Art) & DuE (Device under Evaluation) workflows

✓

✕

Run literature searches specific to State-of-the-Art data
Seamlessly move articles between workflows

Customizable tables for summary reports

✓

✕

Add new data fields for your projects as report formats change and as your team received Notified Body feedback

Source document management

✓

✕

Ensures reports reflect accurate information from the latest internal documentation such as IFUs, device description, etc.

Audit trail & reproducibility

✓

✕

Audit trail to understand details of past decisions have been made and how data has been extracted from various databases

US FDA MAUDE/TPLC adverse event database integration

✓

✕

Consolidated results for multiple product codes
See all device brand names reported on MAUDE; never miss out on a device name variation

Writing Support & In-Built Regulatory Intelligence

✓

✕

Ability to share workload with our writing team seamlessly and NB/Device Manufacturer intelligence regularly incorporated

Content Linking when drafting Reports

✓

✕

Seamlessly link content from the referenced Technical Documentation
One-click data verification for Reviewers

Plug Dynamic Literature Review Tables into Reports

✓

✕

Easily plug literature tables generated from the Systematic Literature Review
Dynamic tables which update automatically based on any updates in the Literature Review

In-built writing support

✓

✕

Cite included articles and Technical Documentation easily
Save cost; no need for additional Reference Management Software subscription
Subscription & Service Delivery Models
How can your team benefit from a CAPTIS™ subscription?
In-house: Your team completes all work in the CAPTIS platform; save time and reduce manual effort of your medical writers

Collaborative: Our team works with yours together in the CAPTIS platform; benefit from collaboration features and access to all project data

Outsourced: Celegence's expert team completes all work in CAPTIS; you maintain ownership & access to all project data
Redefining Compliance for EU MDR & IVDR
Maximize the Efficiency of your Medical Writing Team with CAPTIS™
Fill in the form now to get a 1-on-1 demo of CAPTIS and see how you and your team can benefit from it.