Case Study: Medical Device Registration Project in India, Bangladesh, Pakistan and Sri Lanka for a Global Medical Device Company
Background – Client Needs:
A US medical device manufacturer was looking to introduce a new medical device and expand its market in India and neighboring countries (Class IIa and IIb). The manufacturer sought regulatory support in submission and obtaining approval to market these new products for business expansion.
The client faced the following challenges:
Understanding the country guidelines and local registration requirements such as approval time, dossier requirements, fee structure, classification, etc., for registration of a new medical device

Development of a strategy without complete and practical knowledge of country-specific registration requirements

Regulatory standards differing and continuously evolving from country to country

Difficulty finding experienced professionals to prepare country specific submissions and meet the project requirements in terms of timeline and number of product registrations
The scope of Celegence activities was to manage all regulatory activities and ensure full regulatory compliance for medical device registration in India, Sri Lanka, Pakistan, and Bangladesh. The team was expected to work closely with local regulatory authorities to ensure the latest regulation requirements regarding product registration and maintenance were addressed. The team was also expected to engage in regular project monitoring, documentation filing, and timely status reporting.
Project Initiation & Key Objectives:
The client chose to leverage Celegence's team of medical device regulatory experts to support this Medical device registration project based on our extensive expert network and ability to complete the project in a cost-efficient and timely manner.
The client's objectives involved realising the following business benefits via their outsourcing strategy:
Inputs on the registration requirements for a new medical device and acceleration of the registration process

Significant reduction of operational cost for each registration as well as maintenance through a managed resourcing model from Celegence

Inputs on strategy for ongoing device registration, including regulatory intelligence
Celegence Solution & Approach:
Celegence was awarded a contract to provide support in Medical Device Registration services and performing submission and obtaining approvals for new medical devices as per countries guidelines, including:
Preparation of submission dossier as per specific country regulatory guidelines with details of essential information on regulation, steps involved in the registration, supporting documents and other requirements for the listed countries

Maintain regulatory intelligence and work closely with the regulatory authority for support in Device registration
The initial information was provided by the Celegence delivery team with prior experience of working closely with Regulatory authorities. The checklist and other information were gathered as per the regulatory guidelines including the following:
Type of submission, classification of device, Product information

Local country specific dossier requirements

Country specific submission steps and related requirements

Strategy and timelines for submission
The output of the task was on-time preparation of the submission dossier for the assigned medical devices including the strategy. Key to the success of the project was our team's integration, in house medical device experts, and direct contact with health authority representatives.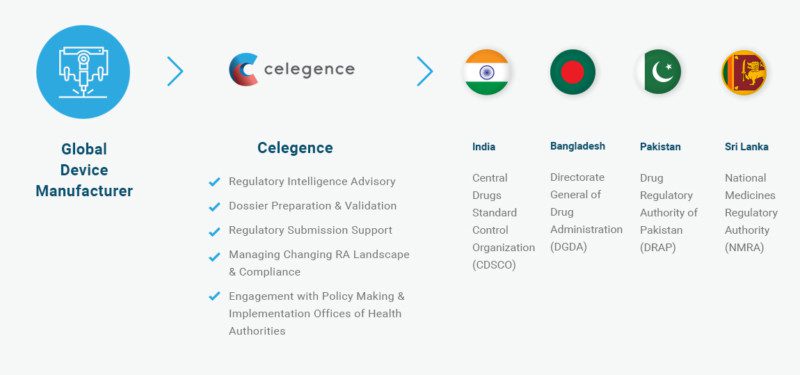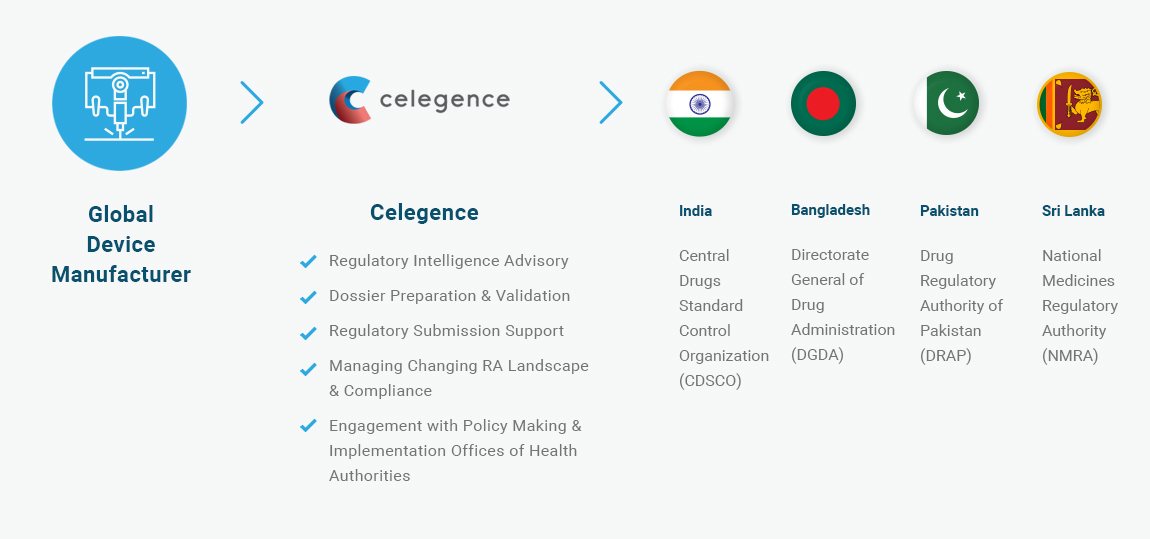 On time quality-oriented dossier preparation and submission

Definition of detailed submissions steps to accelerate submission activities in the target markets

Minimization of registration filing gaps through a comprehensive analysis of registration requirements and related documents

Detailed monitoring of project schedule and proactively sharing project status to support the client's strategic planning for device expansion

Capturing lessons learned through interactions with Health Authorities enabling better preparation of subsequent submissions and in turn accelerating the registration projects
Celegence delivered the following value and business impact to the client:
Comprehensive and accurate registration requirements including steps, fees, and average timeline in order to inform regulatory strategy and minimize potential delays

Reduction of operational cost

Ongoing compliance improvement with access to Celegence's regulatory expert network

Ability to digest only the useful and necessary information rather than a 'data dump' through simple and comprehensive RI report format

Consistent information across countries with an established report format for future expansion
Find out more information on Celegence's Medical Device capabilities and support for medical device registration