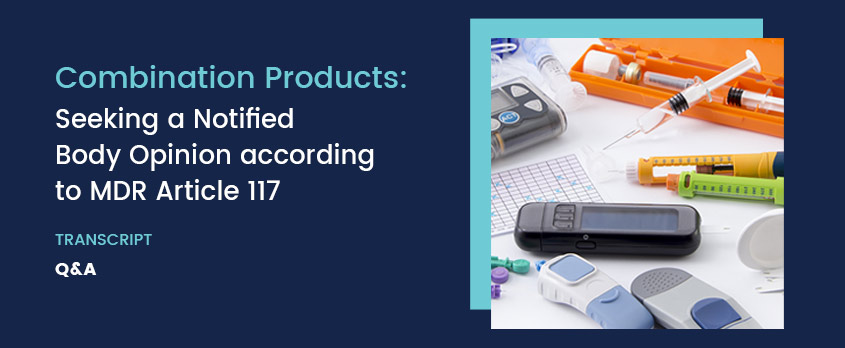 Combination Products: Seeking a Notified Body Opinion according to MDR Article 117 – Q&A
Celegence, a Global Regulatory Affairs Services & Technology company for the Life Sciences Industry, partnered with Q1 Productions in April of 2021 to offer a webcast titled "Combination Products: Seeking a Notified Body Opinion According to MDR Article 117".
By replaying this webinar, you will have an opportunity to understand how to best prepare, interact, and fulfill the requirements for a Notified Body opinion on your organization's combination product.
Additionally, you will gain an understanding of the impact of Article 117 on Drug Device Combination (DDC) products and the General Safety and Performance Requirements (GSPRs) which are to be met for combination products prior to placing them on the market.
If you were not able to attend this webinar, here's a link where you can view the on-demand version. We are here to help address any other questions that you may have related to the webinar, or questions about how you may be able to benefit from our MDR compliance services or MDR Compliance technology, we are happy to assist. Contact us to find out how we can help you optimize your RA/QA strategy.
A full transcript of Joseph's presentation is available to download (and to read below) and just press play to watch the clip now.
Claim Your Free EU MDR Checklist Now!
Make sure you and your business are compliant with the new EU MDR. Get our 23 page checklist for actionable technical documentation requirements.
Q: Can you elaborate on the lack of notified bodies and the lack of expertise in this area?
A: There is indeed a lack of notified bodies, with 20 at the moment. Bear in mind, the notified bodies went through a redesignation process from the MDD to the MDR, so some are still going through the process with relevant competent authorities in order to be designated under the MDR. If you Google "EC NANDO" it will give you the list of notified bodies that are available to certify under the MDR. There also are the MDCG codes that have been released in the document 2019/14. You will be able to assess the notified body, whether they can actually carry out work on your particular device family. Go to the EC's website to check on the approved or certified notified bodies and then you can approach them, and they will be able to help you from there.
The second part of the question about it's the expertise of the notified bodies – they are going through a re-designation process. They are going to be assessed according to the requirements and if they have the resources to do it. Some of the notified bodies have set up new teams in order to carry out work under the MDR. I have no doubts that if they are on the NANDO list and if your device family is listed, then yes, they will be able to carry out the assessment for you without a problem.

Q: Can you expand on the need for CER for a combination device?
A: This is a very hot topic when it comes to combination products & the need for a CER. Now the GSPRs themselves, you have to make sure you are compliant with your clinical data. Now, let's look at it this way. What is a CER? The CER is how the manufacturer demonstrates that the device that they've got on market, or coming to market, is compliant to the essential requirements under the GSPRs under the MDR. You need to use clinical data. By demonstrating compliance to the GSPRs using clinical data, it is a form of clinical evaluation, but it doesn't need to be in the format that we know as a clinical evaluation report.
If you were to ask me, do you need a clinical evaluation report when you are demonstrating your GSPRs for an article 117 notified body opinion? The straight answer will be no. However, you must make sure that your GSPRs are compliant, and you must demonstrate that with clinical data. Clinical data also comes in many ways, it's either from a clinical investigation, post-market surveillance, or from a scientific literature review, which you get in a clinical evaluation report. So, you don't need to draft it as a clinical evaluation report in that sense, but by demonstrating compliance to your GSPRs, using clinical data, and having that clinical evidence, you are compliant to the requirements and that's what you need to do.
Claim Your Free EU MDR Checklist Now!
Make sure you and your business are compliant with the new EU MDR. Get our 23 page checklist for actionable technical documentation requirements.
Q: What do we need to keep in mind in terms of timing and costs?
One thing that you will be allowed to do is if your device needs a label, you have to label it according to the MDR. It's the outer packaging where if it's a medicinal product, you have to go by the medicinal product directive guidelines. It must be presented as a medicine in that particular combination. When you've got a clash between the medical device and your medicines directive, then I would say go by your medicines directive, consult with your competent authority on where you've got things that are clashing, and they will be able to assist you. Alternatively, get in touch with Celegence and we'll be able to help you as well.
Q: Do you have any recommendations for seeking a consultation on this matter?
A: Notified bodies do not consult. If there's any consultation that you need, then reach out to the consultation agency. You can come to Celegence and we'll be happy to assist you accordingly.
Q: Can you provide clarity on the amount of information, and the required level of detail that is necessary for the consultation?
A: This is your technical documentation that meets the requirements of the GSPRs. Go through the GSPRs and make it very clear what is applicable and what is not applicable, and for the ones that are applicable, make sure that you can demonstrate that with clinical data. This is data that has been generated by the use of the device, either in development testing, pre-production testing and production testing, and post-market surveillance information. Make sure it's clinical data that demonstrates the clinical evidence and ultimately, the clinical benefits to the patients and the users. If you're able to demonstrate with clinical data, clinical evidence, and the clinical benefit, and you assess your risk from all areas, then you'll be in good shape.