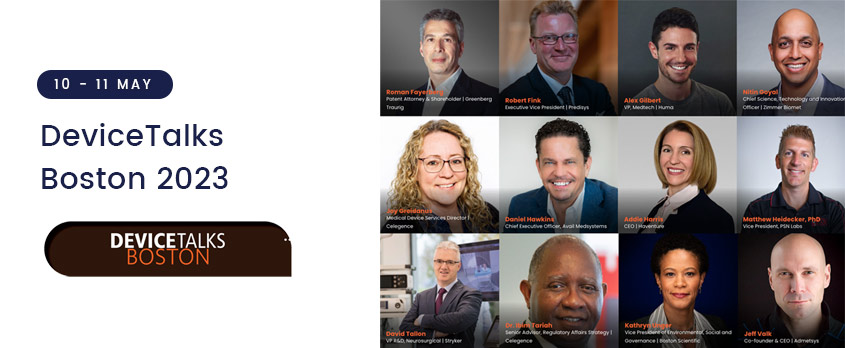 DeviceTalks Boston 2023 – Speaking Engagement
Celegence invites you to join us for the DeviceTalks Boston on May 10-11, 2023. DeviceTalks is an open platform for the MedTech community to forge new connections through shared insights and stories.
What: Panel discussion on "Is the EU MDR extension a blessing or a curse?"
When: Thursday, May 11th at 2.50pm ET
Where:Boston Convention and Exhibition Center, Boston, MA
How: Register Here
Why: Join this session to understand the impact of the EU MDR extension for the US medical device industry and learn how it effects US medical device reporting (QSR to QMS)
About The DeviceTalks Boston
Spend two days with the innovators, engineers and executives who are creating life-saving medical devices in an increasingly challenging time.
DeviceTalks Boston delivers essential insights in easy to identify tracks which are dedicated to:
Funding and leading start-ups
Engineering and developing new prototypes and devices
Manufacturing medical devices with new materials and technologies
Bringing new products to market through regulatory, reimbursement and commercial challenges
Panel discussions to explore a wider view of the future of the medical device industry
Claim Your Free EU MDR Checklist Now!
Make sure you and your business are compliant with the new EU MDR. Get our 23 page checklist for actionable technical documentation requirements.
Celegence Presentation – Panel Discussion
Celegence is excited to be a Diamond Sponsor at DeviceTalks Boston – exhibiting from Booth 508.
This event brings medical device innovators, engineers, and executives together in a setting that fosters interaction and inspiration.
Our accomplished panelists will include:
Ibim Tariah, Senior Advisor, Regulatory Affairs Strategy at GMED North America
Joy Greidanus, Medical Device Services Director at Celegence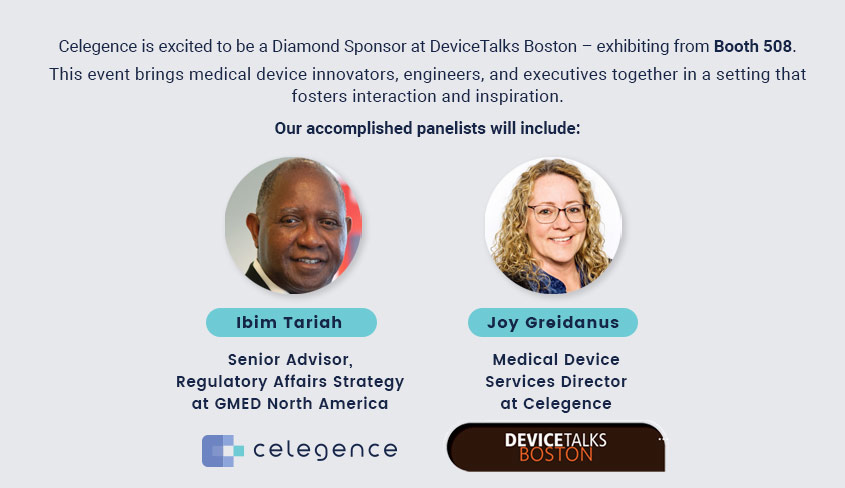 Learning Objectives / Panel Discussion Focus
What does the extension mean to Manufacturers?
What are the pitfalls to avoid during the extension?
Learn how notified bodies are dealing with the extensions – common challenges and advice.
What is the impact of the extension for legacy v/s new products?
What does this mean for Brexit? How will Switzerland act?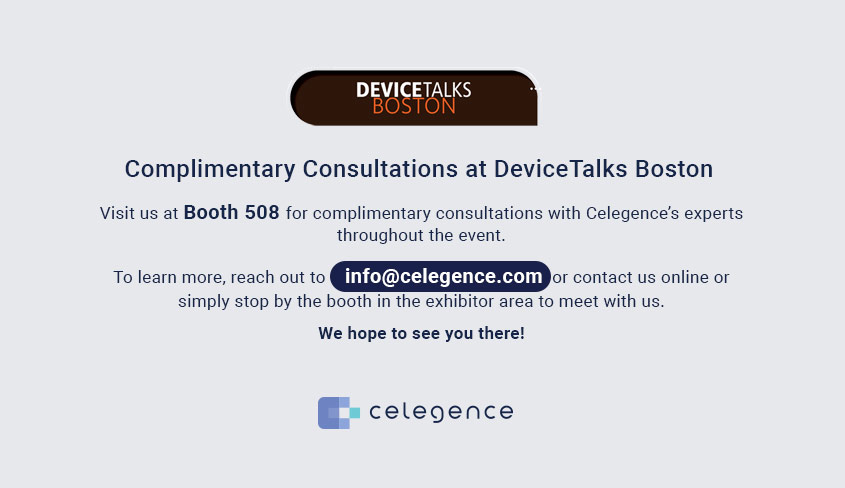 Complimentary Consultations at DeviceTalks Boston
Visit us at Booth 508 for complimentary consultations with Celegence's experts throughout the event.
To learn more, reach out to info@celegence.com, contact us online or simply stop by the booth in the exhibitor area to meet with us. We hope to see you there!