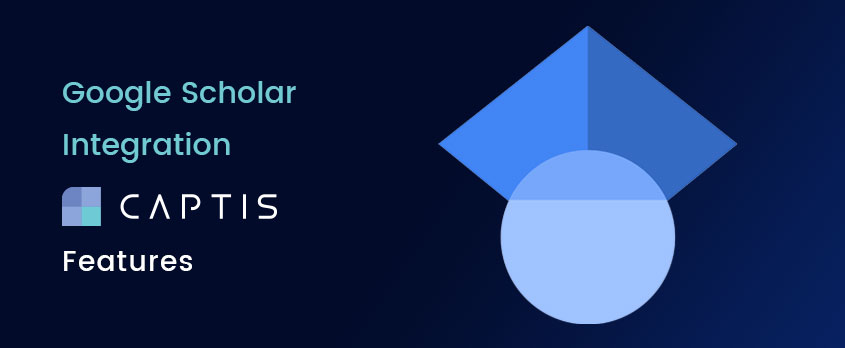 Google Scholar Integration – CAPTIS™ Features
A crucial part of the Clinical Evaluation of Medical Devices and In-Vitro Diagnostic Devices under the EU MDR and IVDR are the Systematic Literature Reviews.
In MEDDEV 2.7/1 rev 4 , the significance of a systematic review is constantly emphasized as being essential to ensure compliance with the new EU MDR and EU IVDR. With carefully crafted research questions, a systematic literature review is a structured and objective method that locates, evaluates, and analyses clinical evidence. To find all literature sources pertinent to the Clinical Background, State of the Art (SotA), and the subject device, a thorough, methodical search of databases like PubMed, Embase, Cochrane, Google Scholar etc. is required.
In this article we'll outline how the Google Scholar Integration within CAPTIS™ can allow you and your team to produce higher quality Systematic Literature Reviews with greater accuracy.
Systematic Literature Review Stages
The first stage (Level 1) in a systematic literature review involves taking inclusion or exclusion decisions based on the information in the Title and Abstract of the article. This step serves as a checkpoint for identifying articles which may contain evidence for your search objective. Articles included in the first stage then undergo a full-text evaluation (Level 2), where a detailed qualitative appraisal and analysis of the article takes place.
Make Sure You're EU IVDR Compliant
The checklist highlights all of the documentation that you will need in place for certification of your IVD device and will serve as a guide to help you achieve ongoing compliance. In conjunction with this checklist, we are also able to provide you with bespoke strategies to bring your business up to speed. We are currently working with businesses from the United States, India, and throughout Europe to ensure that they are ready for the deadline in May of 2022.
Limited Information in Abstracts
Article abstracts typically do not provide the entire information on the materials, equipment and devices used in the research, which is expected, since the abstract is a short summary of the research. Now if your device of interest is the primary focus of a clinical study, it quite likely will secure a place in the abstract, like the lead actors in a movie poster. Hence, the presence of the device is easily detected, and the article is included (assuming all other inclusion parameters are satisfied). This works well for devices which are a topic of popular research.
Now what if your subject device had an ancillary role in the treatment? Say, the owner of the café who hands the details of the next mission on a napkin to the main lead in an action movie; surely an important scene, but not critical enough to make it to the movie poster. Likewise, low risk medical devices are unlikely to have clinical studies dedicated to them, and often do not enjoy the same stardom and mention in the abstracts like their higher-risk/popular associates in the treatment. For example, the abstract of a clinical study comparing the clinical outcomes of various customized orthodontic brackets most likely will not mention the archwire, adhesives, or other devices used in the treatment.
| Study Objective | Comparison of the clinical effects of different customized orthodontic brackets |
| --- | --- |
| Main Device (primary focus of the research) | Custom CAD/CAM Orthodontic Brackets |
| Ancillary Devices (not the focus of the research) | Etchant, Primer, Adhesives, Curing Light, Archwire, Ligatures, Dental Bands, Relief Wax, Probes, Pliers etc. |
Direct and Indirect Clinical Evidence
While direct clinical evidence (wherein main study outcomes are on the device of interest) is sought-after and essential for high-risk devices, indirect clinical evidence (where study outcomes are not based on the device of interest, but the device was a part of the treatment) is also valuable for demonstrating the safety and/or performance of the device especially when direct literature evidence is scarce.
Since full-text evaluation is done after the articles pass the title and abstract screening stage, there are chances you may mistakenly exclude a relevant paper because your device wasn't mentioned in the title and abstract of the study. And even if the "device type" is mentioned in the abstract, if it wasn't the primary focus of the study, the brand name or manufacturer of the device may not be mentioned, which leads to another level of review to ensure that the study used your brand or manufacturer of interest.
What makes Google Scholar special?
Google Scholar is a freely accessible search engine which provides a simple way for researchers to broadly search for scholarly literature using the keywords of their research projects. Unlike research databases such as PubMed, Google Scholar conducts its searches across all internet sources, even within the full text of paid articles and can return much more diverse results.
Low-risk devices which are unlikely to be the primary focus of a clinical research often suffer from low results from literature since most databases will not scan the full-text of the article for the keywords, nor will the title and abstract mention the devices. In scenarios like these, indirect clinical evidence is also valuable.
Google Scholar searches the entirety of the scholarly work for the keywords that you search for and returns the snippet from the full text which contains the searched keywords. Hence, with the correct combinations of search operators and keywords, you can find clinical studies using your device of interest even if the device was not mentioned in the abstract. Google Scholar will also notify you of the presence of your keyword in the article, even if the article is not open access (yes, we're amazed too).
Take a look at the results from PubMed vs Google Scholar for the same search parameters: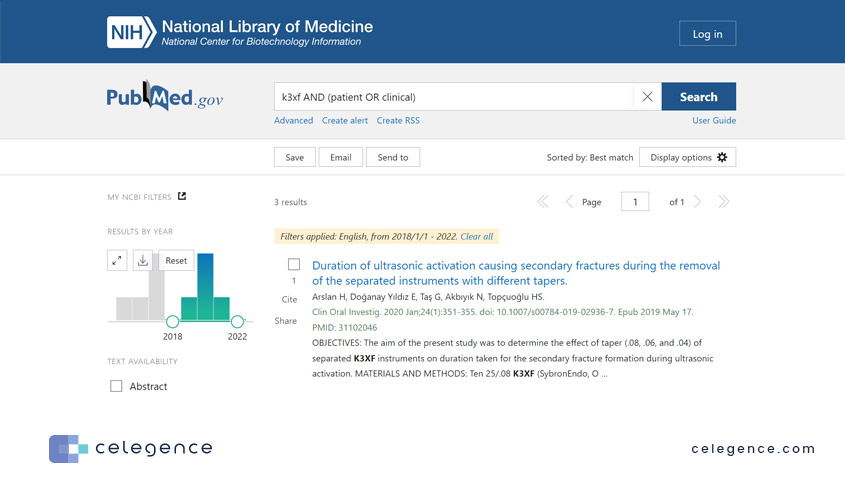 Figure 1: Search results from PubMed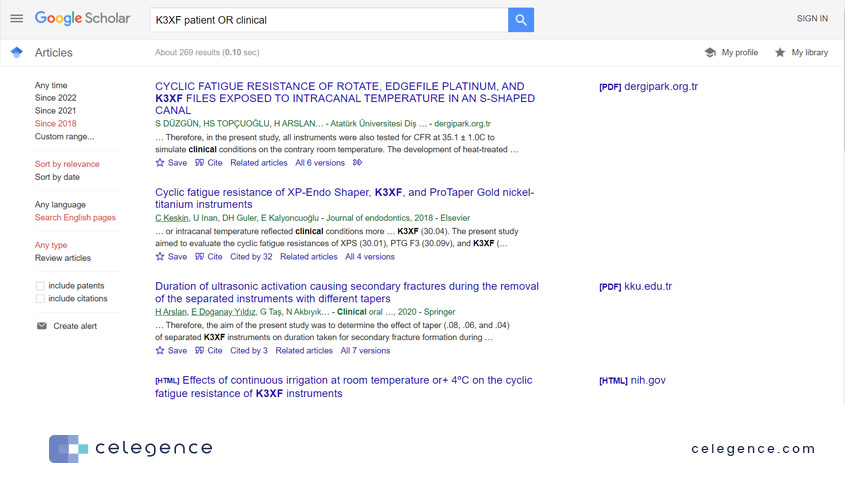 Figure 2: Search results from Google Scholar for the same keywords and search filters. The text below the Title and Authors is not the abstract, but a "snippet" from the full text containing the searched keywords.
Advantages and Disadvantages of using Google Scholar
The Benefits
At its core, Google Scholar is simply a search engine. One of the major advantages of using Google Scholar is that searches for keywords are conducted within the full text of articles and returned as snippets from the same, meaning it not only helps researchers find very specific results relevant to the device of interest, but , which wouldn't have been visible in a standard Level 1 review.
Google Scholar searches the full text of both open access and paid research articles, and other related information from across the internet and is not limited to title and abstract searching only, giving you more results to consider for your Level 1 review, which ultimately leads to a better CER or PER.
Does this mean you shouldn't use databases such as PubMed? No, that's not the case; PubMed, Embase and other research databases play a critical role in every review, especially with regards to the quality of the evidence.
The Challenges
With over 100 million records, it certainly is a powerful research tool.
However, the disadvantage of this search engine is that search results also include Grey Literature; considered as materials or research produced by organizations outside of traditional commercial or academic publishing and distribution channels. Common grey literature publication types include reports, working papers, government documents, white papers and evaluations. Grey Literature often does not contain the highest quality of evidence and will likely be excluded; however, this is not necessarily a disadvantage if you want to include certain grey literature items in your final reports.
Moreover, search results obtained from Google Scholar are not easy to extract from the search engine (when compared to direct exports from databases like PubMed and Embase). The extraction activity requires a significant amount of manual effort which could negatively impact your timeline in terms of effort and can often be an error-prone task.
Google Scholar Integration Within CAPTIS™
At Celegence, we understand operational challenges faced by device manufacturers and medical writers alike and use technology to overcome these challenges. Hence, we integrated the Google Scholar search and extraction feature within the CAPTIS™ platform. You can now retrieve data directly from Google Scholar in an efficient manner without any extra manual input.
CAPTIS™ Makes it Easier to Use Google Scholar
To search on Google Scholar within the CAPTIS™ platform, you simply need to enter the Google Scholar search string, filters and run the query. CAPTIS™ matches the Google Scholar results with entries on other databases likes PubMed (where applicable) and returns all the information medical writers need for their Level 1 Screenings – title, abstract and publication details, along with additional information such as hyperlinks, snippets, keywords, descriptors, and publication type which normal Google Scholar searches outside of the CAPTIS™ platform do not give.
What's more, you can export all CAPTIS™ results into an RIS file for easy imports to a Reference Management Software such as EndNote, Mendeley, Zotero and others.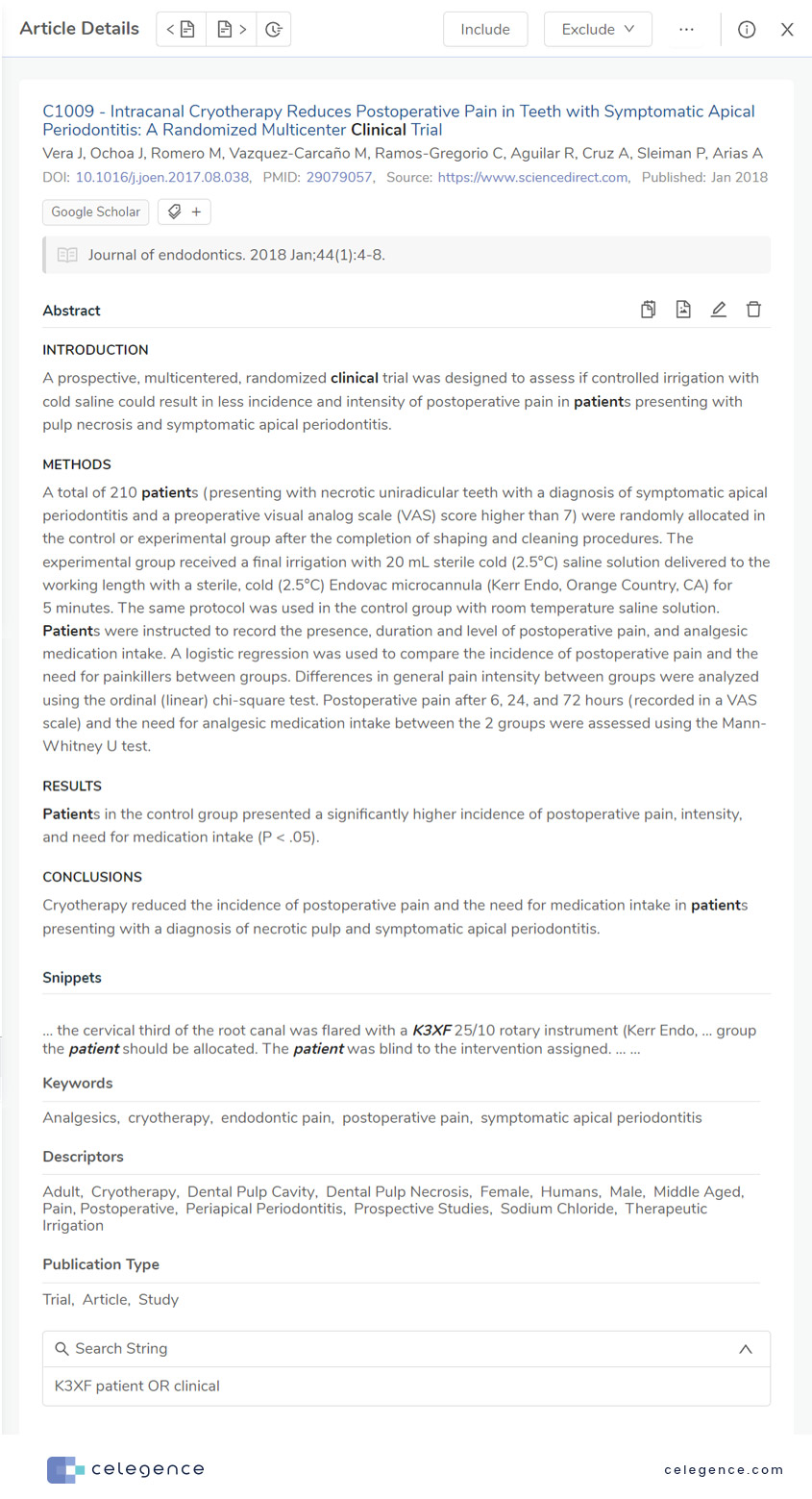 Figure 3: Screenshot of a Google Scholar result from CAPTIS™
Benefits of using Google Scholar (GS) within CAPTIS™
Here are some of the benefits of using the Google Scholar Search feature within CAPTIS™:
Automatic and easy extraction of detailed search results
Article mapping with other databases for additional information
Offers resource efficiency
Offers cost efficiency
Allows rapid extraction of full texts
Access to a substantial body of grey literature as well as academic literature
Easy export of bulk or single citations to an external Reference Management tool
Schedule Your CAPTIS™ Demo
Make Sure You're EU IVDR Compliant
The checklist highlights all of the documentation that you will need in place for certification of your IVD device and will serve as a guide to help you achieve ongoing compliance. In conjunction with this checklist, we are also able to provide you with bespoke strategies to bring your business up to speed. We are currently working with businesses from the United States, India, and throughout Europe to ensure that they are ready for the deadline in May of 2022.