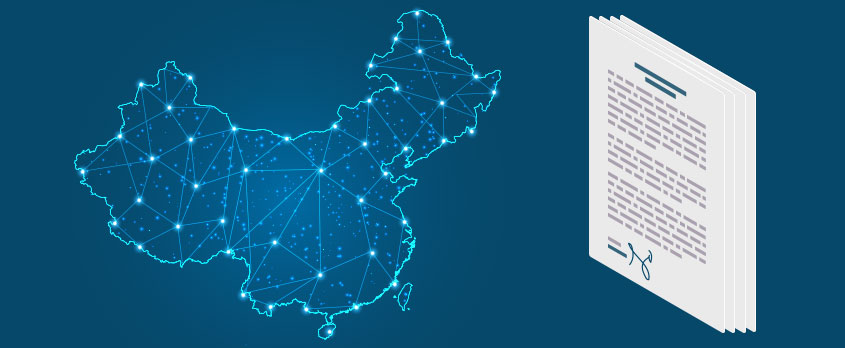 China eCTD Requirements – Center for Drug Evaluation (CDE) Guidelines
Draft information on the future of electronic common technical document (eCTD) submissions in China has been published by the China Center for Drug Evaluation (CDE) in recent months. Although things may change between this draft information and the final specification, expected sometime in August 2021, it is important for all organizations who want to perform clinical research in the country to understand the draft guidance.
China has accepted the latest technical requirements of Standard 3.2.2 of the International Conference of Harmonisation (ICH). The requirements apply to the submission procedure for eCTD by the FDA. China's criteria are therefore more aligned to the eCTD specifications of the FDA than to the eCTD process of the EMA.
The NMPA (National Medical Products Administration) has given China's draft eCTD guidelines after attending the ICH (International Conference on Harmonization) in June 2017. It is time for any company seeking approval in the Chinese market for their goods to plan to take advantage of this regulatory change.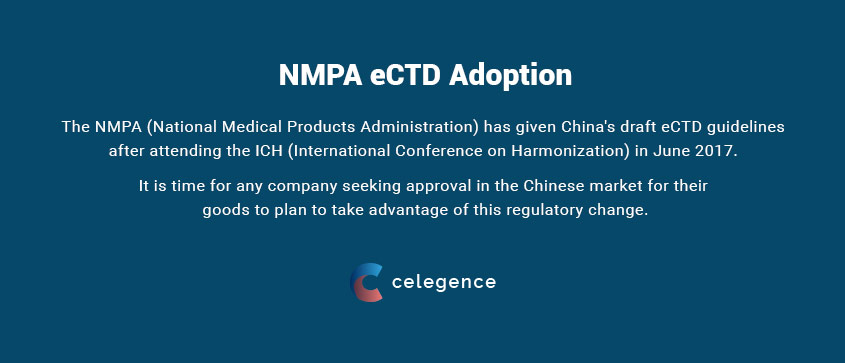 Insights from China's Draft eCTD Information
eCTD Approach: Module 2 to Module 5 will adhere to the ICH eCTD format specifications.
Chinese Language Usage: For non-Chinese eCTD submitters, the biggest challenge is that documents with English versions must be given as a guide in Chinese. Chinese versions would be treated as reviewing dossiers and requires full submission navigation. English versions will only be treated as references. Titles for eCTD leaf must also be in Chinese.
The first sequence will be 0000, which, for the new US 3.3 regional DTD, deviates from the US requirement of 0001.
China intends to include an eCTD validation link to its official CDE website, which will be free of charge but in Chinese.
Current CDE validation requirements require only information about errors and warnings and prompt information. Validation is yet to be resolved for Chinese documents.
Review & Validation: Initially, CD/DVD submission will be needed, but at some point, gateway submissions will follow.
Considerations When implementing eCTD in China
The time from publishing the requirements to approving an eCTD to finally becoming the eCTD mandatory, provides a good opportunity for organizations from the Pharma industry to develop their expertise and establish their eCTD partnerships. The eCTD provides greater consistency and harmonisation to the regulatory landscape.  Although this is a positive change for the regulatory community, a period of adjustment and learning will also be needed for all. It also requires organizations to prepare the relevant software, test it, define processes involved and be prepared with expert resources.
There is a lot of work for both businesses and regulators to do to be ready for China eCTD. Gaining expertise with eCTD will be crucial or partnering with an experienced partner who can share best practices and skills to staffing. Through staying on top of the policy updates, compliance teams will make their jobs easier when NMPA regulators finalize the paperwork.
Another important step will be to determine the readiness of the organization for eCTD from the perspective of people, processes, and resources to identify gaps. The earlier the differences are addressed, the easier it will be to ensure the company is able to comply with the new regulations and stay ahead of competition.
Specific Registration Requirements in China as per NMPA / CDE
Including specific requirements for submissions such as blank BMR, KSM control validation, repeat validation on existing pharmacopoeial specifications.
Providing justification of starting materials in accordance with ICH, KSM vendor details with GMP compliant certificate, Quality indicative methods in KSM specification, Characterization of KSM, Audit and compliance report of vendor.
Polymorphic evaluation and impurity profile with innovator sample, justification with literature reference.
Provide manufacturing process with at least 3 chemical conversations, executed process validation protocols and reports.
Rationale for selection of the manufacturing process from lab, pilot, commercial batches.
For Drug Registration Certificate specifications and ChP compliance: microbial studies in release specification, complete analytical method validation report and justification of specifications.
Characteristics, approval, and usage information of excipients.
Structural elucidation of working standard including raw data.
Raw data of each stability time interval, microbial test in stability specification, Stability influencing factor study (CP 2015, 9001), invoice and photographs of the reference standards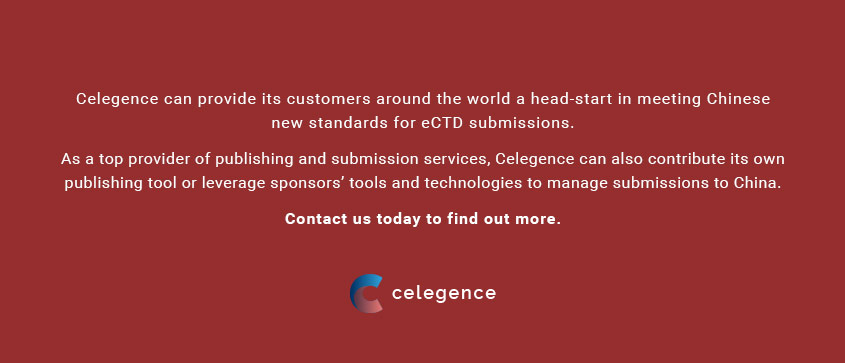 Data and Documents Required from Manufacturers – Chinese eCTD Requirements
Manufacturer's name, address of manufacturing site for finished API and intermediate's manufacturer
GMP certificate
ISO certificate (if available)
Commitment that the supplier will inform of any changes in the manufacturing process of the substances that may affect its quality and quality control
Specification of Testing methods for PSD
COA
MSDS, Non-TSE, Non-GMO declaration
Stability data with information about used packing materials (ASMF section 3.2.S.6 and 3.2.S.7)
Manufacturing chain – a clear flowchart or text explaining the route of API manufacturing and distribution from starting materials until the final API supplied to ICN
Statement concerning Q3D
Statement reference to required conditions for storage and transport
Information about experts
LOA
Table of changes between different versions of the ASMF (if applicable)
The global regulatory environment is continuing to evolve in terms of compliance, oversight, and enforcement requirements. The experts at Celegence have access to the most detailed, accurate and reliable business and regulatory information available, including global regulations, agency dynamics and new markets, regulatory changes, and updates.
Celegence can provide its customers around the world a head-start in meeting Chinese new standards for eCTD submissions. As a top provider of publishing and submission services, Celegence can also contribute its own publishing tool or leverage sponsors' tools and technologies to manage submissions to China.