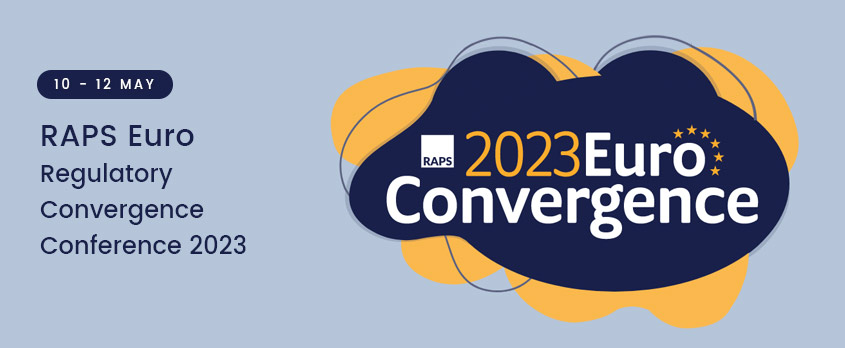 RAPS Euro Regulatory Convergence Conference 2023 – Speaking Engagement
Celegence invites you to join us for the RAPS Euro Regulatory Convergence between 10-12 May 2023 in Amsterdam, Netherlands. RAPS Convergence is your regulatory meeting place to connect and interact with peers, health authorities and notified bodies across the healthcare industry.
What: Brief Presentation – Is the EU MDR extension a blessing or a curse?"
When: Thursday, May 11th at 16:05 – 16:35 CEST
Where: Park Inn by Radisson Amsterdam City West, La Guardiaweg 59, Amsterdam, 1043 DE
How: Register Here
Why: Join this session to better understand the effects of the EU MDR extension to manufacturers, notified bodies, Brexit, and how to deal with it.
About The RAPS Euro Regulatory Convergence 2023
RAPS Euro Convergence is the most comprehensive regulatory affairs conference in Europe, focusing on the latest developments in healthcare products in Europe and beyond—medical devices, IVDs, pharmaceuticals, and combination products.
Designed exclusively for regulatory professionals by regulatory professionals, RAPS EU Convergence is the largest annual regulatory-focused event in the EU—celebrating and supporting the global regulatory community! The event unites key stakeholders and decision makers across all intersections of the regulatory field for three powerful days of professional development, interactive discussions and relationship building.
Claim Your Free EU MDR Checklist Now!
Make sure you and your business are compliant with the new EU MDR. Get our 23 page checklist for actionable technical documentation requirements.
Celegence Innovator Sponsor
Celegence is excited to be an Innovator Sponsor and invite you to join us for the RAPS Euro Regulatory Convergence between 10-12 May 2023 at Booth 31.
Come together with other European regulatory affairs professionals to discuss pressing regulatory topics and share best practices within the MedTech industry.
Celegence Presentation and Featured Presenter
The session will be led by Celegence's RA/QA Subject Matter Expert, Joseph-Richardson Larbi.
Joseph has 20 years of experience in medical device life cycle management and quality management systems (certified to ISO 13485, ISO 9001 & ISO/IEC17025).
His key expertise includes the preparation and maintenance of technical files, product safety and vigilance reporting, clinical evaluations, risk assessment, regulatory audits, CE marking, and notified body opinion submissions.
Medical device industry – Joseph has experience in diabetes management devices, nicotine replacement therapy (NRT) devices and pressurized metered dose inhalers (pMDI).
Joseph has worked for small, medium, and large Biotech companies such as Roche, OBG Pharmaceuticals, and Kind Consumer Ltd.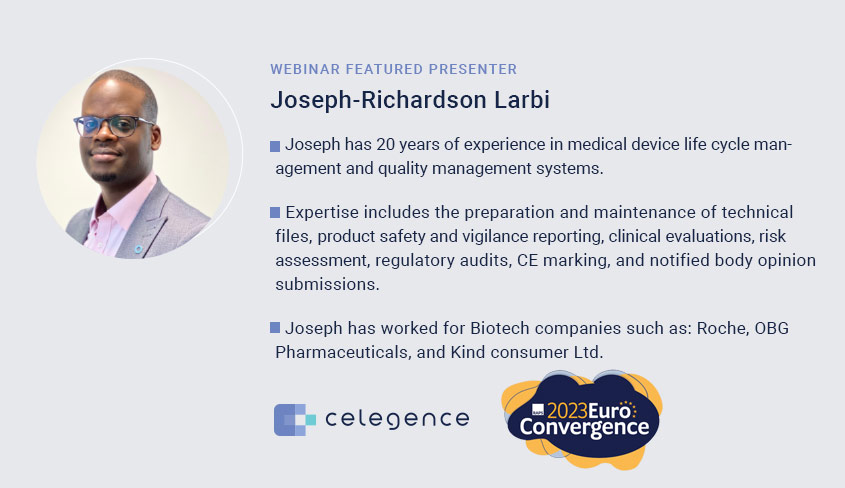 Learning Objectives / Focus of Presentation
What does the extension mean to Manufacturers?
What are the pitfalls to avoid during the extension?
Learn how notified bodies are dealing with the extensions – common challenges and advice.
What is the impact of the extension for legacy v/s new products?
What does this mean for Brexit? How will Switzerland act?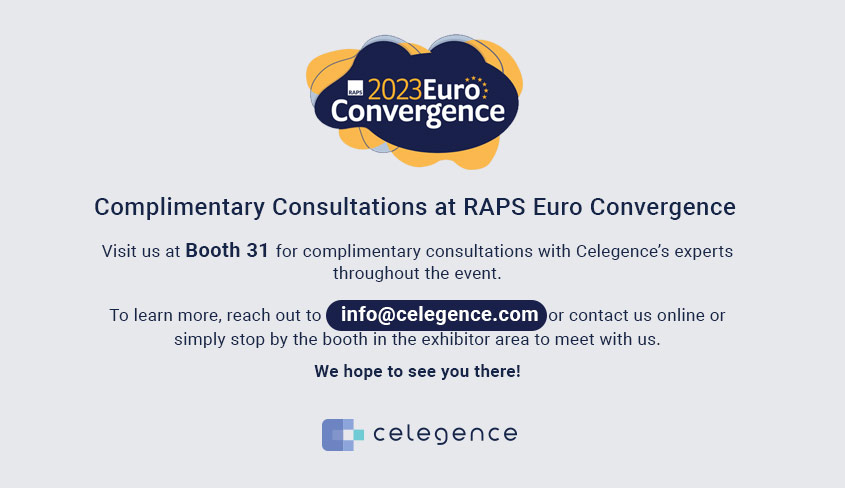 Complimentary Consultations at RAPS Euro Convergence
Visit us at Booth 31 for complimentary consultations with Celegence's experts throughout the event.
To learn more, reach out to info@celegence.com or contact us online or simply stop by the booth in the exhibitor area to meet with us. We hope to see you there!