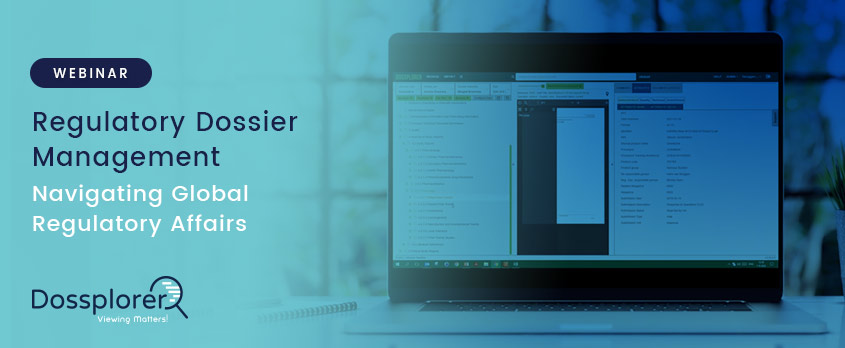 Exploring Efficient Regulatory Dossier Management: Navigating Global Consumer Regulatory Affairs – Webinar
What: Webinar – "Exploring Efficient Regulatory Dossier Management: Navigating Global Consumer Regulatory Affairs"
When: 12th December, 10am EST.
Where: Online Event
Why: This webinar will unlock the future of consumer Global Regulatory Affairs (GRA).
Register your interest now and don't miss out!
Regulatory Dossier Management Webinar Description
Join Jason Mattis (Regulatory Affairs CMC, Kenvue) and Michiel Stam (Director Regulatory Information Management​, Celegence) for an enlightening session where they will address the challenges posed by dispersed product dossiers, the complexities of accessing crucial information efficiently and delve into a groundbreaking approach that simplifies the intricacies of managing regulatory dossiers across a global landscape.
Our experts will guide you through dynamic functionalities designed to facilitate contextual searches, conduct cross-market comparisons, and streamline decision-making processes, utilizing Dossplorer™ – an innovative digital solution that can unlock and explore the true value of your regulatory dossiers in a safe and secure, web-based environment. Offering instant dossier viewing, sharing, and reviewing from any location.
Witness the advanced capabilities of a hybrid cloud/on-premises tool, designed to ensure data security while providing unparalleled flexibility, and experience how this exclusive solution empowers GRA professionals and stakeholders to navigate regulatory landscapes seamlessly, optimizing resource allocation and enhancing collaboration.
Don't miss this opportunity to embark on a transformative journey toward efficient regulatory dossier management.
This webinar will include a 45-minute presentation and 10 to 15 minutes of Q&A.
Claim Your Free EU MDR Checklist Now!
Make sure you and your business are compliant with the new EU MDR. Get our 23 page checklist for actionable technical documentation requirements.
Jason Mattis, Director, Regulatory Affairs CMC, Kenvue
Jason Mattis is a Global Team Leader in CMC Regulatory Affairs for Kenvue. Jason has a BS in Biology, a MS in Quality Assurance/Regulatory Affairs, and an executive MBA. He has over 23 years of experience in CMC, from manufacturing, quality and regulatory. Jason leads a team responsible for the introduction and life cycle management of OTC drugs globally. He has been spending the last few years working to digitize Kenvue's OTC drug dossier library to unlock the true value of Kenvue's data. Jason loves spending time with his family, mentoring, and physical fitness.
Michiel Stam, Director Regulatory Information Management​, Celegence
Michiel started his career 15 years ago in eCTD publishing and submissions, before shifting focus to Regulatory Information Management (RIM). He is also the former product owner of Dossplorer™. ​Currently Michiel holds the position of Director Regulatory Information Management and provides strategic direction and subject matter expertise for implementation of Regulatory Information Management (RIM) solutions.​ Michiel has worked on various eSubmission projects including the preparation and submission of initial MAA's and post-authorization maintenance applications for agencies in the EU (CP/MRP/DCP and Nationals), US (NDA/BLA/IND) and other regions such as GCC and Switzerland​.
Webinar Learning Objectives
Explore regulatory dossier through multiple views, with emphasis on the Across Dossier View
Ability to show metadata on a document level, particularly relevant on the Across Dossier View
Apply a Power Search across all documents (PDF, Word, XPT, etc.) in Dossplorer (e.g. eCTDs, NEES, but also any other file and folder structure, such as CCDSs)
Learn how to interpret Change Requests (from internal or health authorities) and assess the regulatory impact across dossiers, countries and products, using the Power Search and filtering options
Learn what's new since last log on.
Learn how to enrich existing dossiers with additional metadata
Learn how the tool informs you about browsing an obsolete document and how to get the the latest one.
This webinar is aimed towards companies in the life sciences industry, including middle and top level global regulatory professionals involved in:
Regulatory Affairs
Medical/Regulatory Labeling/Scientific Writing
Regulatory Operations
Electronic Regulatory Submissions
Document and Project Management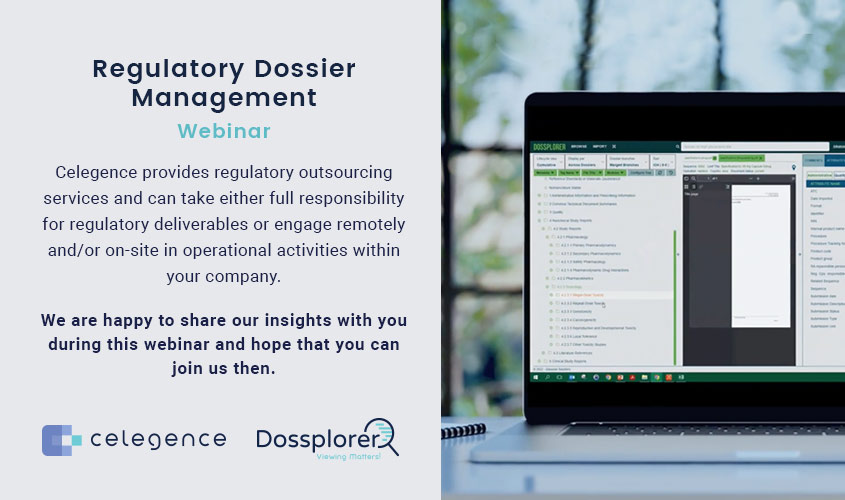 Full Spectrum Services & Solutions for Pharmaceutical Organizations
Celegence provides regulatory outsourcing services and can take either full responsibility for regulatory deliverables or engage remotely and/or on-site in operational activities within your company. Our team has vast experience with the compilation, submission, and maintenance of regulatory dossiers, registration tracking, IDMP, xEVMPD, document, and data migration. The innovative technologies at Celegence help Life Science organizations reduce their costs and time to market to support product development and submission strategies. Our solutions enable optimal reusability and consistency by transparent management of recordings and documentation of regulated information, across data, documents and dossiers.
We are happy to share our insights with you during this webinar and hope that you can join us then.
For more information on how Celegence can help improve your regulatory compliance, reach out to us at info@celegence.com, contact us online or read more about Celegence's services.