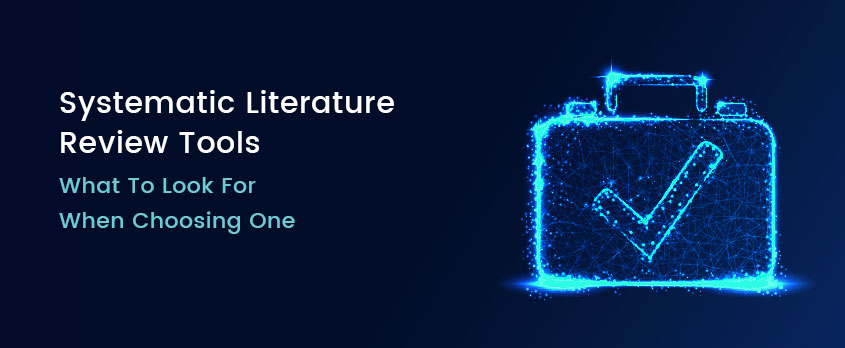 Systematic Literature Review Tools – How To Choose One
A variety of factors (e.g., the new EU MDR & IVDR requirements, finding and retaining top talent, and tight budgets, just to name a few) have influenced Medical Device and Diagnostic manufacturers to invest in technology that streamlines and automates required compliance activities. Systematic Literature Review tools (SLR tools) can offer users many advantages over using "manual" methods such as Excel. However, with more and more SLR tools entering the market to meet the growing demand of the medical device industry, how do you know where to start?
The Celegence team is here to help. The following blog details six things to look for when choosing a systematic literature review tool to meet the MDR/IVDR requirements for your medical device or diagnostic portfolio.
#1: Ease of Use and Simple User Interface (UI)
Conducting a systematic literature review is quite time intensive. In fact, research shows that systematic literature reviews can take anywhere between 6 to 24 months to complete.[1–3] And, depending on the size of your team and product portfolio, you will likely need to execute multiple projects simultaneously. You will spend a lot of time using your chosen SLR tool or platform, so it should be easy to use and navigate. Furthermore, the composition of regulatory team members associated with any given project may change over time. Medical writers may transition, new reviewers could be assigned, and additional stakeholders from cross-functional teams might need to contribute. Given this dynamic environment, make sure that you look for a tool that is intuitive, recognizing the time commitment to implement it into your workflow. Review the provider's training program too, ensuring ongoing support for your team well after the initial implementation.
Make Sure You're EU IVDR Compliant
The checklist highlights all of the documentation that you will need in place for certification of your IVD device and will serve as a guide to help you achieve ongoing compliance. In conjunction with this checklist, we are also able to provide you with bespoke strategies to bring your business up to speed. We are currently working with businesses from the United States, India, and throughout Europe to ensure that they are ready for the deadline in May of 2022.
#2: Systematic Literature Review Tools Collaboration Features
Systematic reviews are a collaborative effort. Any given systematic literature review may include multiple medical writers, inputs from medical and subject matter experts, and reviewers from regulatory, quality, and clinical departments. Your organization might even be outsourcing different regulatory functions to an external firm or consultant, so adopting an SLR tool that can accommodate internal and external users will be key. More importantly, your chosen platform should possess features that facilitate collaboration. Some key collaboration features you may want to consider include:
Comments and Direct Messages: An avenue for threaded discussions and direct communication adds depth to collaboration.
Full Audit Trail: Think of it as a digital breadcrumb trail – essential for traceability, discussions, and learning as projects evolve.
Customizable Review Workflows: Flexibility to tailor workflows to your team's unique dynamics ensures smooth progress.
Dashboard Insights: Quick-glance dashboards brimming with project stats empower managers and executives to steer the ship confidently.
Consider all the key players involved in the post-market surveillance process for your device portfolio, document their needs, and review these needs against the feature set of the platform and the support available from the provider.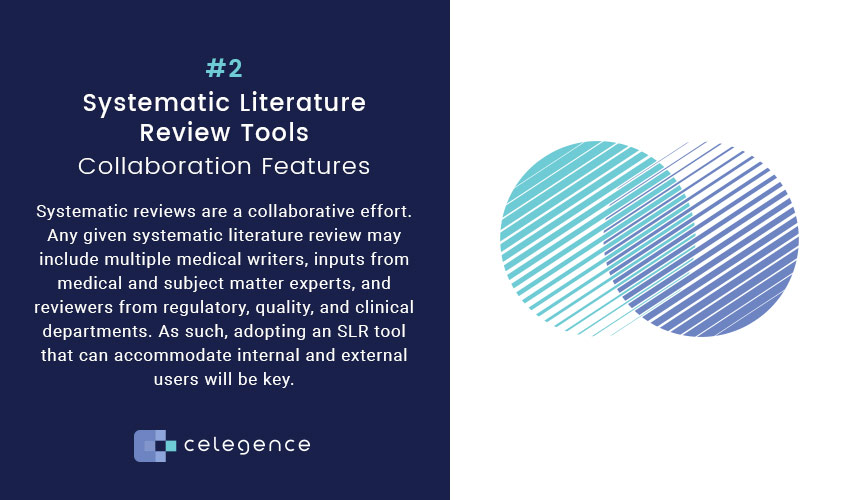 The medical device industry is highly regulated to ensure that the products that reach patients are safe and efficacious and work as intended. Once a product reaches the market, device and diagnostic manufacturers follow stringent policies and procedures to carry out the necessary post market surveillance (PMS) activities to collect, analyze, and interpret a massive amount of data about the product's usage, performance, safety, etc.
Your chosen SLR tool will play a vital role in the ongoing lifecycle management activities of your marketed products. It will help you prove to regulators, through required PMS reports, that your device continues to be safe and efficacious. The stakes are extremely high when it comes to the data collected and reported upon within the PMS reports for any given device.
The Software as a Service (SaaS) model is becoming increasingly common within the life science industry, with several service providers available that offer platforms and tools that support the systematic literature review process. The SaaS model benefits end users by providing access to solutions that are less expensive and cheaper to maintain as the responsibility of software maintenance rests with the service provider. Nonetheless, this arrangement means that the SaaS provider retains the authority to alter and enhance elements such as the interface and functionality of the system, according to their timeline rather than yours.
As a buyer, you should seek out a validated system to ensure that the tool meets the needs of your team and works the way that it is supposed to work. Many tools that you consider will likely fall under the SaaS category. It is paramount to ascertain that the SaaS provider has a robust validation program in place that covers the process, coverage, and services that you are purchasing.
#4: Systematic Literature Review Tool Scalability
As you survey the landscape for potential SLR tools to implement, consider the current state of your team but also the future state of your organization. A cheaper "quick fix" solution may be tantalizing initially, but the solution should not only address your immediate needs, but also easily scale to support a growing product portfolio and align with your firm's goals over the next three, five, and years beyond.
#5: SLR Tool Customer Support and Software Development
Unfortunately, no software tool is perfect, and bugs are bound to arise due to any number of conditions. It goes without saying how important PMS activities and meeting reporting deadlines for internal and external stakeholders (global Health Authorities, Notified Bodies, etc.) are for the lifecycle management of any medical product. Strong customer support will allow your team to navigate any potential hiccups that might occur with your SLR tool.
During the vetting process, ask the potential vendors about their standard response times, how often new releases or patches are issued, etc. to ensure that they are dedicated to responding to any issues that you may encounter. In addition to a strong customer support process, you should also inquire about the software vendor's development team. You can ask questions such as: What is on the development roadmap? What features are planned to be implemented and when? How does the tool adapt to evolving regulatory requirements? How often is user feedback considered in the development cycle?
You may find that new features they're brewing up could be a total game-changer for your team and the process that your organization follows when performing systematic literature reviews. Choosing a partner that will consider and adapt to your needs is pivotal, so don't shy away from asking for examples or references that indicate strong customer and development support.
A successful regulatory affairs department requires equal parts science and art; strong scientific or technical expertise is important, but so is the ability able to interpret and act upon the regulatory policy and guidance. When searching for the perfect SLR tool, you're bound to find several tools offered by technology providers outside of the life science industry, or those that do not have regulatory experts on staff. Tread lightly.
Picture this: a vendor that employs a team of medical writers and regulatory professionals engaged in the same work that you will be doing on the platform. This will provide you with access to their goldmine of best practices and learnings from their own interactions with Notified Bodies. Furthermore, a vendor who routinely provides regulatory services to manufacturers in the life science industry will understand the challenges of your team and implement creative solutions into the tool to address these.
Researching and selecting the right tool for your team can be an arduous task. But fear not, these six tips will ease the burden of implementing a new SLR system for your organization. If you've any questions feel free to reach out to our expert team.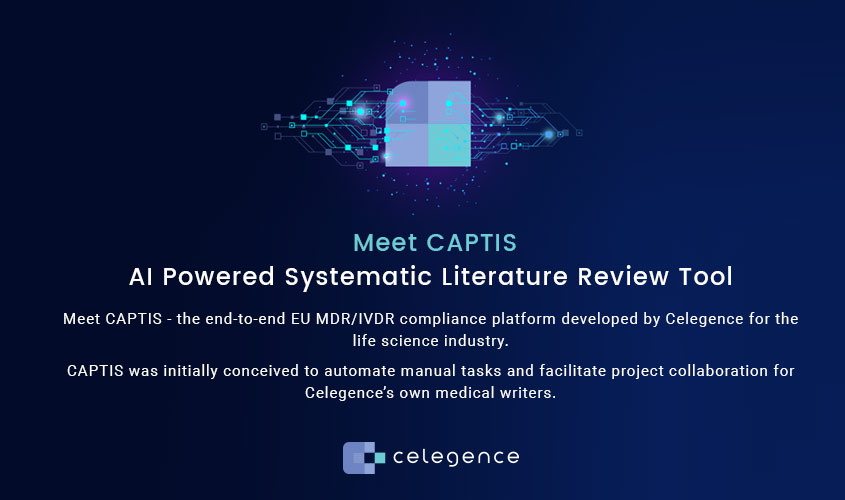 Meet CAPTIS  – AI Powered Systematic Literature Review Tools
Speaking of SLR software, meet CAPTIS – the end-to-end EU MDR/IVDR compliance platform developed by Celegence for the life science industry. CAPTIS was initially conceived to automate manual tasks and facilitate project collaboration for Celegence's own medical writers, who still routinely perform systematic literature reviews and author PMS reports for medical device and diagnostic manufacturers.
Through regular monthly meetings with all CAPTIS users, Celegence actively listens to users' needs and shares best practices for regulatory compliance using the tool. Moreover, user feedback, whether from real-world use or insights from Notified Body interactions, frequently shapes new features that benefit all customers. CAPTIS is a validated system with several automated features and an AI Assistant – CAPTIS Copilot, that helps users perform systematic reviews and create PMS report documentation in record time. To see if CAPTIS will be a good fit for your team, drop us a line today to book a demo.
Make Sure You're EU IVDR Compliant
The checklist highlights all of the documentation that you will need in place for certification of your IVD device and will serve as a guide to help you achieve ongoing compliance. In conjunction with this checklist, we are also able to provide you with bespoke strategies to bring your business up to speed. We are currently working with businesses from the United States, India, and throughout Europe to ensure that they are ready for the deadline in May of 2022.