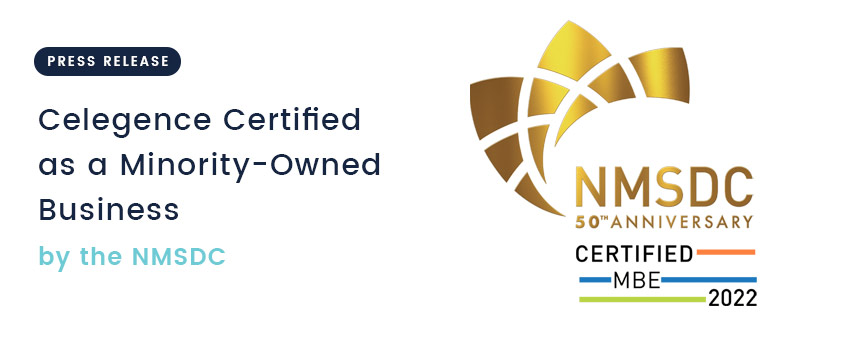 Celegence Certified as a Minority-Owned Business by the NMSDC
Chicago, IL, January 11th, 2023 – Celegence, a global provider of regulatory affairs services and solutions for the life sciences industry, has been recently granted Minority Business Enterprise (MBE) Certification by the Chicago Minority Supplier Development Council.
The certification verifies Celegence's status of being at least 51% owned, operated, and controlled by racial or ethnic minorities who are also U.S. citizens. The MBE certification also demonstrates Celegence's capability to support employees and customers from diverse backgrounds to achieve excellence and fulfill aspirations.
Statement from Punya Abbhi, Chief Operating Officer at Celegence
"We are proud to be recognized by the NMSDC for our continuous effort in supporting racial equality and inclusiveness. The MBE certification reflects our commitment to social good and we look forward to making a meaningful impact on supplier diversity given the nature of our global community."
As a global enterprise that is founded, operated and supported by traditionally underrepresented groups, Celegence is firmly committed to supplier diversity and inclusiveness through its racial-equality initiatives and programs. Partnering with a certified-MBE provides significant economic and social benefits, including growing supplier diversity programs, and it increases confidence that a minority supplier will make a positive impact on their industry.
IDMP WEBINAR SERIES
IDMP Data & Process Management Strategy
Get Instant Access To this 3 Part Webinar Series:
Part 1 – Data Management
Part 2 – Process Optimization
Part 3 – Cross Department Benefits
Presented by IDMP expert, Wim Cypers
Statement from Sonia Veluchamy, Celegence CEO
"Above all, we are thoroughly looking forward to working with clients to help them achieve their goals, grow diversity programs, and continue to build on our shared values."
Partnering with Celegence will see the joint organization's total number of employees increase to 150, with the addition of two offices in the Netherlands and Romania. Celegence currently has offices in Chicago, London and Bangalore.
Celegence helps life sciences companies navigate complex global regulatory requirements by providing consulting services and solutions dedicated to regulatory affairs. Celegence supports life science customers in the areas of EU MDR compliance, IVDR compliance, regulatory intelligence, RIMS data management, publishing, regulatory labeling including UDI consulting, and medical writing. Celegence's depth of experience and extensive delivery capabilities allow regulatory affairs and quality teams to operate more efficiently, reduce cost, and improve compliance. For more information, contact us online or follow us on LinkedIn.