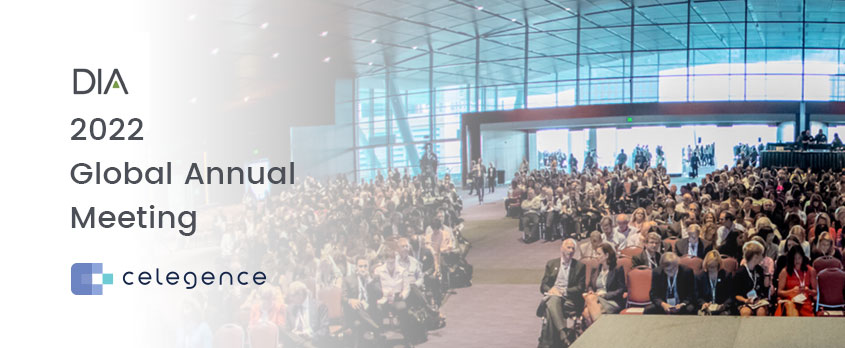 Meet Us at DIA 2022 Global Annual Meeting, June 20-22
Celegence invites you to join us for the DIA 2022 Global Annual Meeting from June 20, 2022 — June 22, 2022, in Chicago, IL. Meet our experienced team at booth #1347 to speak directly about how our full spectrum pharmaceutical services help you navigate through the most complex challenges that pharmaceutical regulations can pose.
When: June 20-22, 2022
Monday, June 20, 2022 11:00 AM – 6:00 PM
Tuesday, June 21, 2022 10:00 AM – 5:00 PM
Wednesday, June 22, 2022 10:00 AM – 4:30 PM
Where: Chicago, IL
How: Register Here
Why: The DIA 2022 Global Annual Meeting returns in-person to bring industry, regulators, academics, and patients together to co-create, problem-solve, and discuss global and local challenges facing professionals in the life sciences community. This year, DIA is offering the Global Annual Meeting as an in-person event hosted in the dynamic city of Chicago.
About DIA 2022 Global Annual Meeting
For more than 50 years, DIA has been dedicated to providing a neutral and transparent global forum for the exchange of ideas and collaborations to further scientific and medical innovations. DIA 2022 is the essential meeting for catalyzing knowledge creation and sharing to accelerate healthcare product development. It is an unparalleled experience combining education and networking opportunities that will elevate your skills and knowledge.
This year, DIA 2022 is excited to return to in-person programming that will bring enhanced opportunities to learn, connect, and collaborate with the life sciences community.
Claim Your Free EU MDR Checklist Now!
Make sure you and your business are compliant with the new EU MDR. Get our 23 page checklist for actionable technical documentation requirements.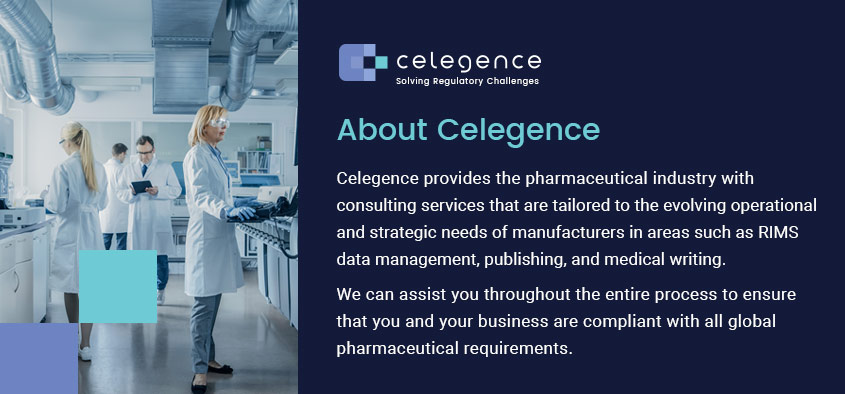 About Celegence – Pharmaceutical Services for Life Sciences Industry
Celegence provides the pharmaceutical industry with consulting services that are tailored to the evolving operational and strategic needs of manufacturers in areas such as RIMS data management, publishing, and medical writing. We can assist you throughout the entire process to ensure that you and your business are compliant with all global pharmaceutical requirements.
Download the latest brochure of our full suite of compliance services for the Pharmaceutical Industry here.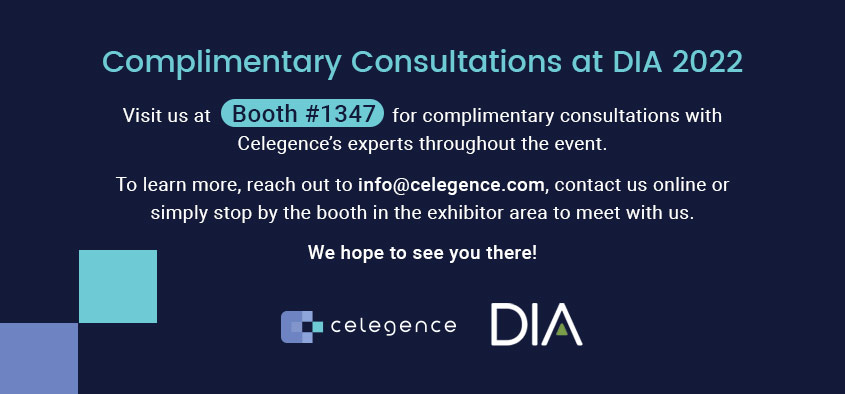 Complimentary Consultations at DIA 2022
Visit us at Booth #1347 for complimentary consultations with Celegence's experts throughout the event.
To learn more, reach out to info@celegence.com, contact us online or simply stop by the booth in the exhibitor area to meet with us. We hope to see you there!