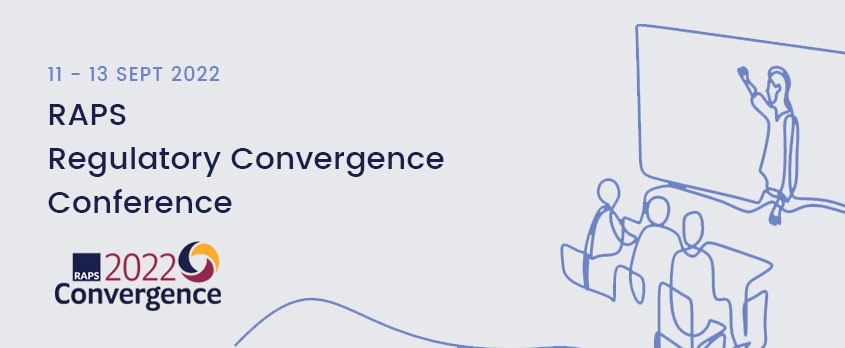 RAPS Regulatory Convergence Conference 2022 – Speaking Engagement
Celegence invites you to join us for the RAPS Regulatory Convergence Conference between 11-13 September 2022 in Phoenix, Arizona. RAPS Convergence is your regulatory meeting place to connect and interact with peers, health authorities and notified bodies across the healthcare products industry.
What: Brief Presentation on "Unveiling Impactful Methods to Strengthen Device Claims"
When: Monday, September 12th at 12:20 PM – 12:45 PM MST
Where: Exhibit Hall: Ignite! Stage – Booth 337, Phoenix Convention Center, 100 N 3rd Street, Phoenix, AZ 85004
How: Register Here
Why: Join this session to examine the best practices to determine measurable claims, identifying clinical endpoints or surrogate endpoints, to demonstrate conformity with General Safety and Performance Requirements (GSPRs) for MDR compliance.
About The RAPS Convergence 2022
RAPS Convergence is the largest and most well-recognized annual gathering of regulatory professionals and innovators in the world. Convergence brings together representatives from industry, global regulatory bodies, and research, academic and clinical organizations that are directly involved in managing the regulatory process and aligning science, regulation, and business strategy. Convergence is designed to educate and empower professionals about the ever-evolving healthcare product regulatory environment within an interactive forum that facilitates community exchange, connections, and knowledge sharing.
Celegence is excited to be a Leader Level Sponsor at RAPS Regulatory Convergence this year in Phoenix, Arizona, USA. Come together with other regulatory affairs professionals to discuss pressing regulatory topics and share best practices within the healthcare products sector.
This session will be led by Celegence's Medical Device Subject Matter Expert, Smridula Hariharan.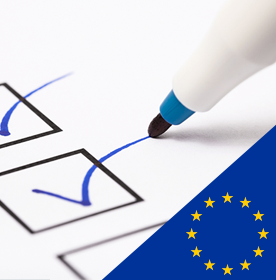 Claim Your Free EU MDR Checklist Now!
Make sure you and your business are compliant with the new EU MDR. Get our 23 page checklist for actionable technical documentation requirements.
Claim Your Free EU MDR Checklist Now!
Make sure you and your business are compliant with the new EU MDR. Get our 23 page checklist for actionable technical documentation requirements.
Celegence Presentation and Featured Presenter
9 Years of medical writing experience including medical devices and In vitro diagnostics. Experience spanning different therapeutic areas and all the different risk classes of devices.
Authored and reviewed several Scientific Validity reports (SVR), Clinical performance reports (CPR), Analytical performance reports (APR), Performance evaluation plans (PEP) and Performance evaluation reports (PERs) for in vitro diagnostics in compliance with IVDR.
Authored and reviewed several Clinical evaluation plans (CEPs), Clinical evaluation Reports (CER), PMS plans and reports, Periodic safety update reports (PSUR), Summary of Safety and Clinical performance (SSCP), Post market clinical performance plans and reports (PMCF), both MDD and MDR compliant.
Developed SOPs for PMS activities/ documents and templates for CEPs, CERs, SVRs, CPRs, PEP, PERs, PMS and PMCF plans and Reports in compliance with MDR and IVDR requirements.
Consults on responses and CAPAs to be implemented for NB queries and Major and minor non-conformities raised for CERs and PERs.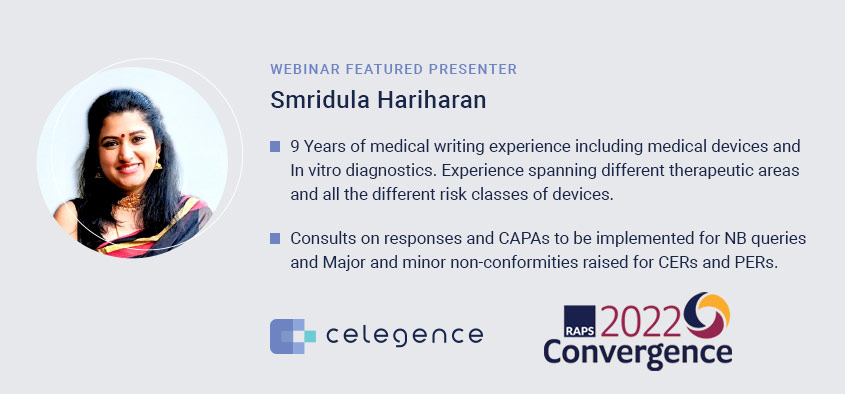 Clear outline of the relation between clinical benefit and intended purpose
Overcoming common pitfalls with:

Identifying clinical safety and performance claims
Associated measurable clinical benefits
Defining end-points to support claims and benefits

Surrogate endpoints for GSPR conformity
Lessons from frequent notified body queries
Focus on useful quantity and quality of data
Identifying appropriate and measurable safety and performance objectives
Benchmarking these objectives
Identifying appropriate and sufficient clinical data to support identified claims
Complimentary Consultations at RAPS US Convergence 2022
Visit us at Booth 609 for complimentary consultations with Celegence's experts throughout the event.
To learn more, reach out to info@celegence.com, contact us online or simply stop by the booth in the exhibitor area to meet with us. We hope to see you there!