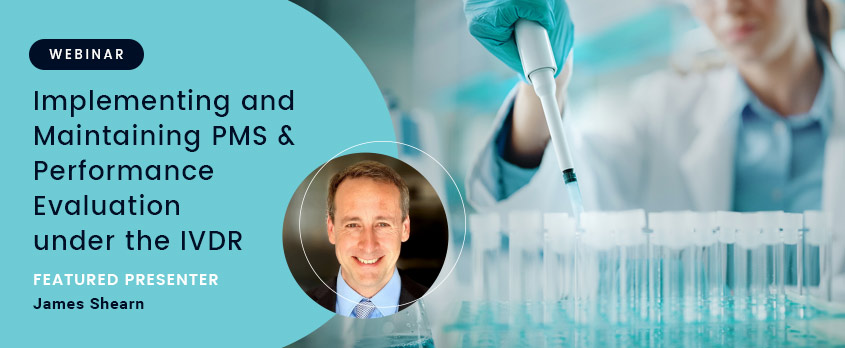 Implementing and Maintaining PMS and Performance Evaluation under the IVDR – Webinar
What: Webinar – "Implementing and Maintaining PMS and Performance Evaluation under the IVDR"
When: Thursday, September 29th, 2022, at 10 am CT
Where: Online Event
How: Register Here
Why: This webinar will illustrate how the PMS process interoperates with other systems including Performance Evaluation, Risk Management and Post Market Performance Follow-Up to continuously update key elements of the Technical Documentation.
The EU In Vitro Diagnostic Devices Regulation (IVDR) brings together previously disparate components of the quality system and requires them to interoperate in a highly synchronous manner with Post Market Surveillance (PMS) driving the documentation cycle for each product in a manufacturer's portfolio.
This featured presentation will be led by Celegence's Regulatory Affairs Subject Matter Expert for Medical Devices and IVDs James Shearn. James will also be available following the presentation for a live Q/A session.
Celegence will be hosting the WEBINAR on Thursday, September 29th at 10 am CT.Register online now!
Claim Your Free EU MDR Checklist Now!
Make sure you and your business are compliant with the new EU MDR. Get our 23 page checklist for actionable technical documentation requirements.
Webinar Featured Presenter – James Shearn
James Shearn has a degree in Medical Electronics and has worked in the Medical Devices and In Vitro Diagnostic Devices (IVD) sector for 27 years.
His early career was in medical device research and development, before shifting focus to Regulatory Affairs.
Throughout his career James has held roles with several large manufacturers, working in the fields of drug infusion systems, cardiology, and diabetes management.
His most recent industry role was as Vice President Regulatory Affairs & Quality Assurance at Oncimmune, an immunodiagnostics company with a focus on the early detection of cancer and autoantibody profiling of autoimmune and infectious diseases.
James has also worked as an independent regulatory consultant, predominantly with Small and Medium Sized Enterprises and has recently returned to the consulting space.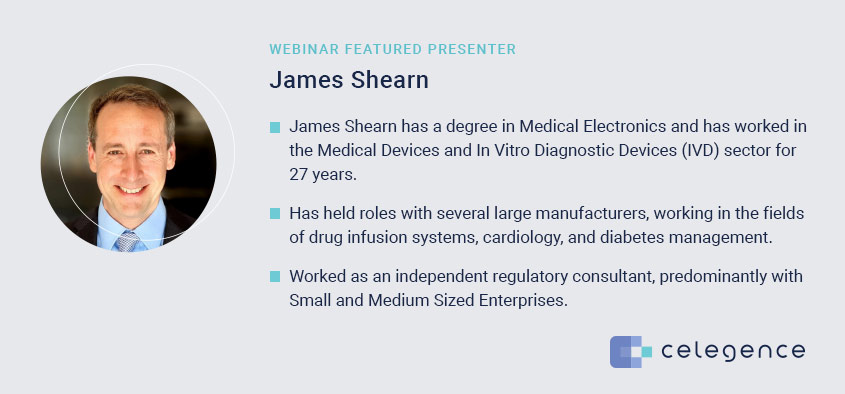 The presentation will include:
The role of PMS within the Quality Management System and its linkages with other processes including vigilance and management review
How the PMS cycle gathers data and drives the creation of IVDR deliverables including the Periodic Safety Update Report (PSUR) and Summary of Safety and Performance (SSP)
How the PMS cycle interlinks with clinical evidence to drive updates to the Performance Evaluation Report
Webinar Learning Objectives
Hear James's key insights into the technical documentation specifications under the IVDR
Examine examples and relevant case studies
Have your most pressing questions answered during the Q/A session
This webinar is aimed towards those working for companies in the life sciences industry, particularly manufacturers of IVDs, with a special emphasis on:
Regulatory Affairs Professionals
Quality Assurance Professionals
Medical Device Executives
Technical Writers and Managers
Medical Device Design Managers
Clinical Managers
"Implementing and Maintaining PMS and Performance Evaluation under the IVDR " webinar will be held on September 29th, 2022, from 10:00 am – 11 am CT. Make sure you secure your place at the webinar by registering now.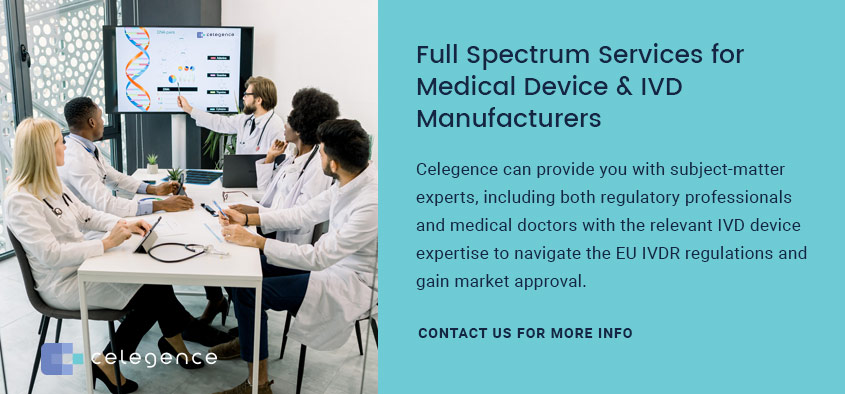 Full Spectrum Services for Medical Device and IVD Manufacturers
Celegence can provide you with subject-matter experts, including both regulatory professionals and medical doctors with the relevant IVD device expertise to navigate the EU IVDR regulations and gain market approval. We leverage a global team of consultants to provide local regulatory insight, strategy, and intelligence. We are happy to share our insights with you during this webinar and hope that you can join us then.