Medical Device Labeling Changes and Challenges – EU MDR
Implementation of the EU MDR can be complex and challenging. With the enforcement deadline being just around the corner, medical device manufacturers must execute the new format of labeling information with utmost priority and caution.
The following is the twelfth in the series of EU MDR related blogs. Many device manufacturers face challenges in understanding the overall impact of the EU MDR on labeling, and this blog aims to address range of issues presented by this looming deadline and the phased implementation approach.
To learn more about the EU MDR changes you can view some of the previous posts in the series: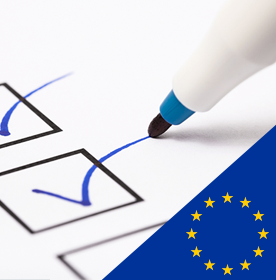 Claim Your Free EU MDR Checklist Now!
Make sure you and your business are compliant with the new EU MDR. Get our 23 page checklist for actionable technical documentation requirements.
Claim Your Free EU MDR Checklist Now!
Make sure you and your business are compliant with the new EU MDR. Get our 23 page checklist for actionable technical documentation requirements.
Product Labeling – EU MDR
Labeling receives prominent attention in the new EU MDR/IVDR regulation that has been released to ensure high standards of quality and safety for medical devices being produced or supplied. Therefore, it is of paramount importance for regulatory, labeling and operational professionals to gain a clear understanding of the impact of the new regulations on labeling. This in turn can rescue manufacturers who are trying to manage product labeling and artwork at the same time while maintaining end-to-end life cycle changes of product labeling.
Definition of Product Label Under EU MDR
In the past decade, the very definition of 'label' has expanded to include items such as multi-language booklets and Instructions for Use (IFUs). All the organizations manufacturing medical devices are to include more information pertaining to their device on their labels, than it was previously required. The MDR has laid out these requirements specific to labeling for increased transparency and traceability of the devices. They must also maintain transparency across all label assets; from individual symbols and statements to label layouts and templates, IFUs, booklets, and other promotional materials.
Labeling is already a complex business process for any organization. This process is especially complex if you are in the OBL (Own Brand Labeling) field instead of producing equipment in-house, and in all cases, it demands effective master data management. Enforcement of the new MDR brings upon added complexity for multiple organizational touchpoints to review their labeling infrastructure amidst the battle for organizational preparedness. The process is more daunting with any content changes during the product lifecycle process as labeling, in both physical and digital form is obtained from diverse source. As you implement, it is important to understand if your plan is going in the right direction, or not.

New Labeling Requirements – EU MDR
Per the EU MDR regulations (Article 23.1, Chapter III of Annexure I), information pertaining to identification of a device, its manufacturer, relevant safety and performance information should be accompanied on the device. These aspects may appear on the device, packaging and in the IFU. Additionally, the manufacturers current website information should also be made available. In this regard, manufacturers face both design and data challenge as the organization will need to design new label templates that make room for data not previously part of the labeling system.
Changes in the Device Label Structure
Some of the key information that manufacturers must include on their medical devices include:
The name and trade name of the device
Manufacture date (if no expiration date)
Indication that the device is a medical device – All labels must include a standardized symbol to indicate that, the package being shipped into the EU contains a medical device
The details strictly necessary for a user to identify the contents of the packaging and its intended purpose
Information of the licensed EU representative, in case a medical device manufacturer is based out of the EU
The time limit for using or implanting the device safely should be expressed in terms of the year and month
Warnings or precautions that need to be brought to the immediate attention of the user while using the device
eIFU along with web address
Serial number and the lot number for an active implantable device and for other implantable devices
Instructions for use (IFUs)
Unique Device Identification (UDI) carrier
Labels must be provided in a human-readable format and may be supplemented by machine-readable information
Labels must include overall composition for devices with materials absorbed or locally dispersed in the body along with quantitative information on the main constituent(s)
Should explicitly state the requirements for sterile barrier labeling. The information shall include:

Identification the sterile barrier
Declaration of the sterile condition (e.g. sterile, nonsterile)
Sterilization method
Manufacture date (month and year)
Expiration date (month and year)
Directive to check IFU if package appears damaged
Individual requirements regarding the information that is to be supplied by the manufacturer are outlined in section 23.2 of the regulation.
Challenges Faced By Manufacturers
Label Variability: To meet the requirements, updating and validating each individual label template will be mandate if you are not using dynamic templates to support your labeling process
Update Time: Label update is a time-consuming process, wherein every single edit/update in the template will need to follow a workflow and approval process prior to being approved for production printing
Lack of Resources: The pressing demand to focus resources on EU MDR has resulted in reprioritizing and/or delaying other project initiatives, this requires manufacturers to hire, retrain or rely on outsourcing work, which adds to top line departmental costs
Uncertainty: Uncertainty about the data that needs to be submitted to EUDAMED. This type of uncertainty introduces risk, delay and potential non-compliance to label template design and the correct connection of data points from within those templates. As the EU MDR introduces more focus on risk mitigation, this is of importance
Unique Device Identification (UDI) – EU MDR
The concept of including UDIs on the labels of medical device products is not new and is important as it will be needed for tracking your product. Although most of the changes implemented by EU-MDR are very similar to the US FDA, the EU adopts stringent and tighter controls than the FDA. For devices per regulation (EU) 2017/745 (MDR), refer to MDR article 123 (3) (f), article 27 (4) for placing UDI-carriers on the labels of devices and reference to IVDR article 113 (3) (e), article 24 (4) for devices as per  regulation (EU) 2017/746 (IVDR).
Some of the action items that your UDI must include are:
Unique identifying "part numbers" issued by a neutral party; assigned to your finished products
Product packaging must be labeled with the UDI
Some products must bear the UDI on the product itself (Direct Part Marking)
UDIs must be registered in a database (EUDAMED)

Composition of UDI Symbol
Device Identifier (DI):

Version or model of the device
Labeler of the device
Package quantity (unit of sale, multi-pack, etc.)
Issued by your agency

Production Identifier (PI):

Conditional, variable
Identifies lot/batch number, serial number, software Identification, expiration date, manufacturing date (if no expiration date) if included on the device label
Location/Appearance of UDI Symbol
The UDI must appear in a plain-text version/human readable information (HRI) and in a form that uses AIDC technology
The UDI Carrier [Automated Identification for Data Capture (AIDC) and human readable interpretation (HRI) representation of the UDI] shall be on the label or on the device itself and on all higher levels of device packaging
Include only the AIDC format on the label if there are significant constraints limiting the use of both AIDC and HRI on the label
For devices intended to be used outside healthcare facilities (such as devices for home care), the HRI shall, however, appear on the label even if this results in there being no space for the AIDC
If a lot number, serial number, software identification or expiry date appears on the label, it shall be part of the UDI-PI. If there is also a manufacturing date on the label, it does not need to be included in the UDI-PI. If there is only a manufacturing date on the label, this shall be used as the UDI-PI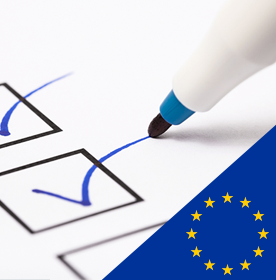 Claim Your Free EU MDR Checklist Now!
Make sure you and your business are compliant with the new EU MDR. Get our 23 page checklist for actionable technical documentation requirements.
Claim Your Free EU MDR Checklist Now!
Make sure you and your business are compliant with the new EU MDR. Get our 23 page checklist for actionable technical documentation requirements.
Medical Device Labeling Changes and Challenges Under EU MDR – Conclusions
The requirements laid out by the MDR regulation is likely to result in labeling congestion. Failure to produce accurate, MDR-compliant labeling may result in organizations unable to distribute their products in Europe, causing products to be unnecessarily stockpiled or even resulting in costly, product recalls. Organizations may require a major redesign of label layouts and possibly accelerate the move from linear to 2D bar codes to capture more data in a machine-readable format. Amidst changes in the existing regulatory framework, labeling directly integrated with centralized data repositories is a valuable compliance tool. To ensure compliance with the regulation and manage medical device labeling, it is critical to take small steps with the phased approach supported by the right technology/tool and start applying to different labeling processes.
Celegence can provide labeling and artwork solutions with complete label integrity to meet the strictest compliance requirements for the upcoming EU MDR. Celegence team can help you evaluate if your organization is ready for EU MDR labeling requirements.