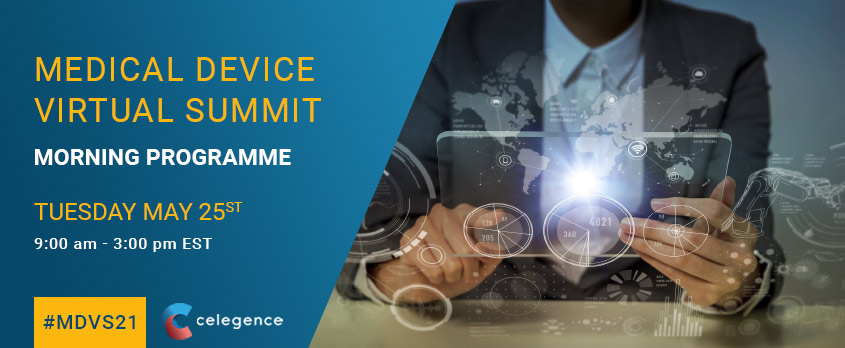 Medical Device Virtual Summit – Morning Program
To review the agenda of the afternoon sessions, explore here!

What: Medical Device Virtual Summit
When: May 25th from 9:00 am – 3:00 pm EST
Where: Online Event
How: Register online now
Why: Make sure you join us for a day of industry insights into the latest trends medical device manufacturers face during the product development life cycle through post-market activities. There will also be Q/A sessions following each of the presentations led by the expert panelists.
About the Medical Device Virtual Summit – 2021
We have planned an informative day with thought-provoking sessions presented by leading industry experts. You can also join to have your questions answered in Q/A sessions with each speaker at the end of their presentations. The virtual summit will be held on May 25th from 9:00 am – 3:00 pm (EST) and you can register to secure your place now.
You will not want to miss Celegence's first annual Medical Device Summit. We are committed to offering you invaluable content and insights, and our goal is to provide holistic support to the medical device industry. You can read more about the featured speakers and the topics of their presentations below, and we hope that you can join us on May 25th!
Morning Program – Medical Device Summit Agenda

Presentation #1: The Big Three: Cytotoxicity, Sensitization & Irritation Testing
Time: 9:00 am – 10:00 am EST
Speaker: Thor Rollins
Position: Director, Toxicology and E&L Consulting
Company: Nelson Laboratories, LLC
About Thor Rollins:
Thor Rollins is a certified microbiologist and specializes in the selection and conduct of in vitro and in vivo biocompatibility tests. He actively speaks on biocompatibility related topics through Nelson Labs external seminars, webinars and tradeshows. He presented on biocompatibility at the American College of Toxicology annual meeting in 2013 and has many published articles on biocompatibility topics.
He is a participating member on all Association for Advancement of Medical Instrumentation (AAMI) TC 194 and 10993 ISO committees and plays an active role along with the FDA and regulatory committees developing standards, discussing biocompatibility methods and voting on changes to those standards. As one of a select group of experts in the industry, Thor's participation on the committees offers him insight on industry changes and helps prepare clients for changes in testing.
About the Presentation:
Of all the tests manufacturers need to be prepared to conduct on their medical devices, none are more important than the Big Three — Cytoxicity, Sensitization and Irritation tests. Manufacturers need to understand these three tests because they must be conducted on every device before they can be submitted to the Food and Drug Administration (FDA). There is no way you can get around these tests without strong and accurate justification.
Understanding the Big Three, manufacturers can be better prepared for submission to the FDA and better prepared to write justifications when the tests indicate a failure.
This talk will review the current status of these big 3 tests, what the future holds, and how to problem solve.
By attending this session, attendees will learn:
An overview of the big 3 tests
Discussion regarding the updated 10993-1 2018 and the possibility of a big 5
Current regulatory trends for these tests and what the standard committees are working on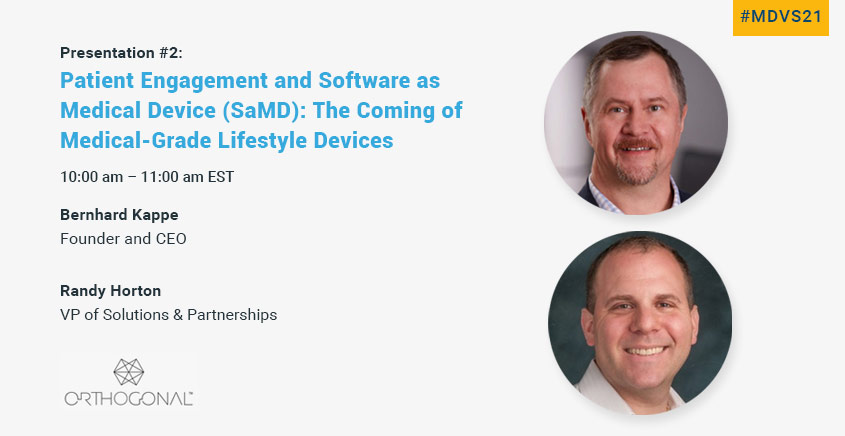 Presentation #2: Patient Engagement and Software as Medical Device (SaMD): The Coming of Medical-Grade Lifestyle Devices
Time: 10:00 am – 11:00 am EST
Speaker 1: Bernhard Kappe
Position: Founder and CEO
Speaker 2: Randy Horton
Position: VP of Solutions and Partnerships
Company: Orthogonal
About Bernhard Kappe:
Bernhard Kappe is a software development leader, technologist, and pioneer who consistently provides his MedTech clients with an unequaled advantage by helping them develop new digital diagnostic and treatment devices and Software as a Medical Device (SaMD)-enabled business models that leverage important new trends and techniques at the leading edge of the adoption bell curve (e.g., Agile software development, Lean User Experience, software product management, DevOps, Lean Startup, and open-source). For nearly a decade, Bernhard has exclusively focused on the medical device and health tech industry and has worked with clients to create innovative software-based diagnostics and monitoring and therapeutics solutions that are put directly into the hands of engaged patients while shortening product development life cycles, improving delivery predictability, and creating medical devices that are financially and clinically successful.
About Randy Horton:
Randy Horton has spent much of his career working with healthcare and life sciences organizations to tackle the Quadruple Aims: improving the individual experience of care, improving the health of populations, reducing the per capita costs of care, and improving the work-life of those who deliver care. With a passion for creative business thinking, nearly three decades of experience with the internet, and a knack for being a connector of people and ideas, Randy helps established organizations breakthrough to their "what's next" by building new capabilities and launching new digitally-enabled products and services that are both innovative and successful.
About the Presentation:
Traditional medical device manufacturers have mastered difficult domains such as distribution, device and integrity, and privacy. But their products generally don't inspire a level of passion among patients and clinicians that can drive exceptional levels of adoption and adherence.
In contrast, consumer device manufacturers don't know how to create safe and effective regulated medical devices that achieve stellar market success. What they do know is how to create products that people use constantly because they love them, have an emotional affinity for them, find them endlessly fascinating, find them useful, and sometimes even can't imagine life without them.
By blending the best-of-breed capabilities of medical device manufacturers and consumer device manufacturers, a new class of devices is possible: Medical-grade lifestyle devices. When combined with remote care services, medical-grade lifestyle devices have the potential to drive major advances in healthcare costs and outcomes.
In this talk, we'll look into this idea in more depth, examine some emerging success stories, and discuss a variety of the challenges that will have to be overcome by industry leaders to cross this chasm including:
The combination of business, regulatory and distribution strategies that can help these products succeed?
How remote data collection can play in ensuring the integrity of medical devices taken home by patients that have the potential to improve human health, but also create potential safety and mis-use risks?
How will device manufactures, providers, and patients collectively balance the possible rewards of data sharing with the risks of high-fidelity data collection tools eroding patient privacy?
And ultimately, How can adherence to prescribed treatments evolve from a chore to be completed into various combinations of compelling, engaging, satisfying, social, and even fun?

Presentation #3: The ABCs of Medical Device Software Compliance under EU Regulations 2017/745 and 2017/746
Time: 11:00 am – 12:00 pm EST
Speaker: April Komplin
Position: Medical Device RA/QA Subject Matter Expert
Company: Celegence
About the Presenter:
April Komplin is a valuable member of the Celegence team due to her expertise and highly successful career in Quality Management Systems and Regulatory Affairs. At her previous position at a medical device start up, she built their QMS from the ground up and the company is now ISO 13485:2016 certified and will achieve CE Marks for seven medical devices in 2021. Additionally, she covered compliance for 21 locations across North America for an In Vitro Diagnostic device manufacturer. She successfully onboarded TrackWise® for customer complaint management, and assisted the company in achieving ISO 9001: 2015 certification. In total, she has authored seven Technical Files and the accompanying DoCs, Essential Requirements Checklists, and PMS Plans. She is also highly proficient in MDR Conformity Assessments, FDA Pre Submission Letters & 513(g) Submissions, as well audit management and QA/QC team management.
About the Presentation:
Classification: This presentation will review medical device software (MDSW) classification and implementing rules under the MDR and IVDR. Proper device classification is essential as it determines your conformity assessment route.
It will also cover application of IEC 62304:2006 to your software life cycle processes, including assignment of a safety class. Early incorporation of these principles can streamline document readiness for your conformity assessment.
Technical Documentation: This presentation will cover the key requirements for MDSW technical documentation under the MDR and IVDR, including risk assessment, performance evaluation, and post-market surveillance plans.
Who Should Attend this Summit?
This virtual summit will be of interest to anyone working for companies in the life sciences industry, including manufacturers of medical devices, with a special emphasis on:
Regulatory Affairs Managers & Professionals
Quality Assurance Managers & Professionals
Packaging Development Product and Project Managers
Technical Writers and Managers
Operations and Design Managers
Clinical Affairs Managers & Professionals
Authorized representatives in Europe
Medical Device Virtual Summit Sign Up
The Medical Device Virtual Summit will be held on May 25th, 2021 from 9:00 am – 3:00 pm EST. Register and secure your spot by registering now.
Medical Device Virtual Summit Registration Is Open Now!

Make sure you join us for a day of industry insights into the latest trends medical device manufacturers face during the product development life cycle through post-market activities. There will also be Q/A sessions following each of the presentations led by the expert panelists.
Celegence – Services and Solutions to Support the Life Sciences
As medical device consultants, we work across all phases of the product lifecycle from regulatory strategy, authoring, and all aspects of established product maintenance, including submission management, publishing and health authority interaction. We leverage a global team of consultants to provide local regulatory insight, strategy and intelligence. We are happy to share our insights with you through the summit and hope that you can join us then.