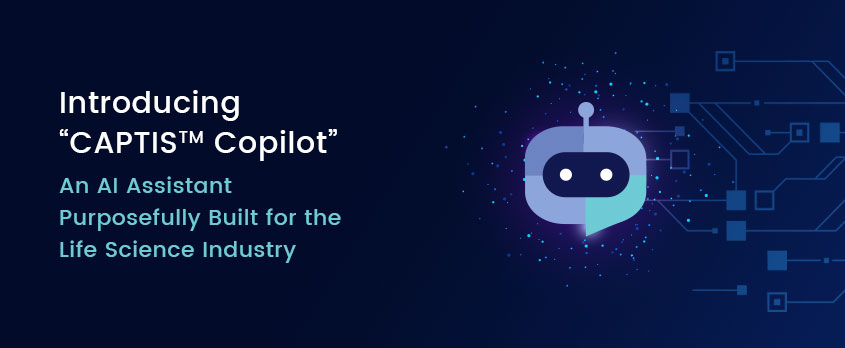 CAPTIS Copilot – An AI Assistant Purposefully Built for the Life Science Industry
With all the speculation of its wondrous potential or disastrous implications, AI has quickly come to dominate the zeitgeist in 2023. Here at Celegence, our Innovation Lab has been hard at work researching practical, helpful applications of AI within our technology solutions purposefully built for the life science industry.
You likely have a lot of questions about how the AI assistant, CAPTIS Copilot, may benefit your medical writing and regulatory responsibilities. Fear not, for answers to your burning questions are a short scroll away!
Access CAPTIS Webinar On Demand
Check out our behind the scenes look at CAPTIS in our exclusive on demand video to see how you and your business can benefit from CAPTIS.
Did you write any documents on a PC around the turn of the century? If so, you probably remember a certain not-so-helpful animated paperclip that danced around the screen, distracting you as you worked. CAPTIS Copilot doesn't dance, but it is much more helpful.
Think of CAPTIS Copilot as an assistant data analyst, researcher, or medical writer. It is an artificial intelligence (AI) companion built into CAPTIS that helps you write regulatory documents quicker and with fewer errors.
Effective medical writers possess a strong mix of skills including scientific aptitude, critical thinking, and organizational management. However, medical writers spend a ton of time within each project performing mundane tasks that don't take advantage of these skills. That's why Celegence is excited to introduce CAPTIS Copilot, an AI assistant powered by OpenAI, into CAPTIS.
Wait a second, I'm new here. What is CAPTIS?
How does CAPTIS Copilot work?
Technically speaking, CAPTIS Copilot leverages pre-trained large language models (LLM) and Reinforcement Learning from Human Feedback (RLHF) to perform tasks assigned to it by a human.
We envision many use cases for the AI assistant in CAPTIS and are excited to hear how medical writers and regulatory affairs professionals decide to put CAPTIS Copilot to work in their day-to-day activities.
Here are some ways that CAPTIS Copilot can serve as an indispensable assistant for your next EU MDR/IVDR project.
When a scientific paper is deemed suitable for inclusion following a systematic literature review, data is commonly extracted from the article to isolate specific parameters for comprehensive evaluation. The dynamic functionality of CAPTIS allows users to easily define these parameters within their projects. Consequently, the CAPTIS Copilot automates the data extraction.
To understand better, let's look at an example. On the left, there's an article. CAPTIS Copilot reads it carefully and takes out the exact details you want. You maintain the flexibility to embrace Copilot's recommendations or fine-tune the information to precisely align with your specific needs.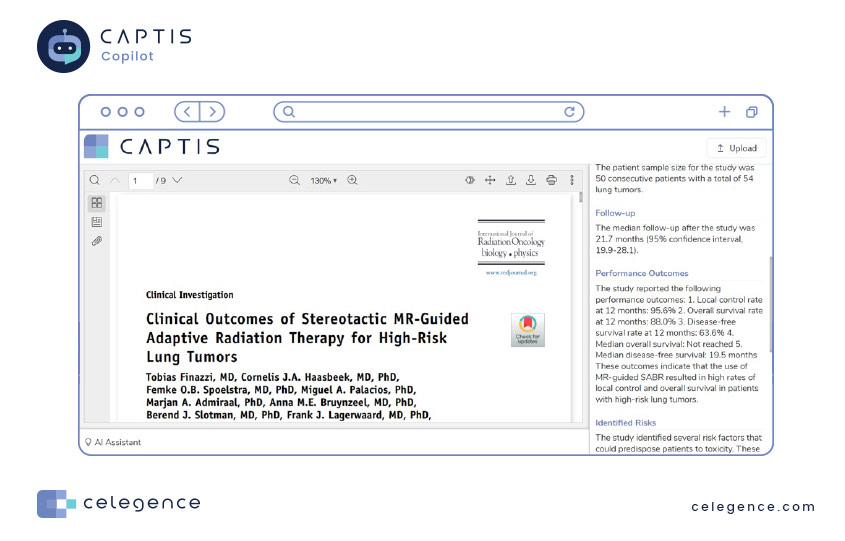 You can also ask the Copilot for assistance with parameters you haven't defined before. Check out the example below.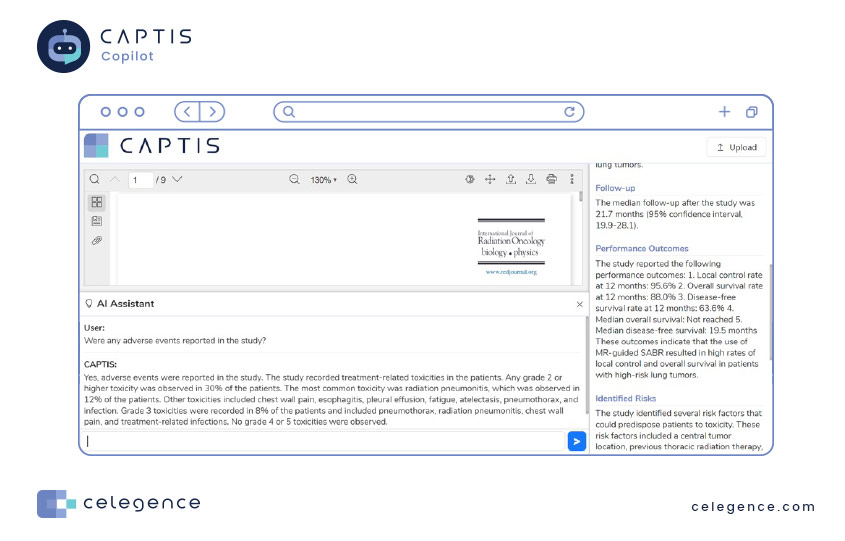 How about using CAPTIS Copilot to assist in planning for your State-of-the-Art discussion within your MDR or IVD reports?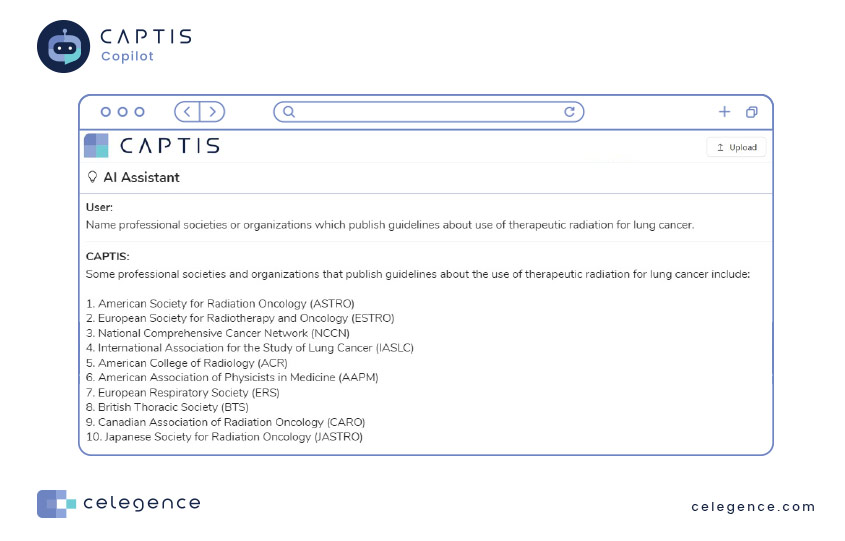 Is CAPTIS™ Copilot going to replace me?
At ease, medical writing warrior! CAPTIS Copilot is meant to help medical and technical writers work smarter, not harder, and your product knowledge and expertise are still required. It is not an all-knowing autonomous medical writing super bot, but it will make complying with the strict data and documentation standards of the highly regulated life science industry easier.
With CAPTIS Copilot, medical writers can quickly extract data from different inputs (e.g., peer-reviewed journal articles, technical documentation, etc.) and draft summaries of clinical studies. Furthermore, the AI assistant can help you to quickly draft summaries of clinical studies to be referenced in the post market surveillance reports (e.g., CER, PER, PSUR, PMCF plan, etc.) for the medical device or diagnostic under evaluation.
How will AI help with regulatory compliance?
By automating manual data extraction activities and generating the first rough draft of different sections of a final report, CAPTIS Copilot will help medical writers of all experience levels write content more quickly. These time savings will allow writers and teams responsible for post market surveillance activities of medical devices more time for the critical thought necessary to write and present information in compelling ways for internal stakeholders or external reviewers such as regulatory bodies.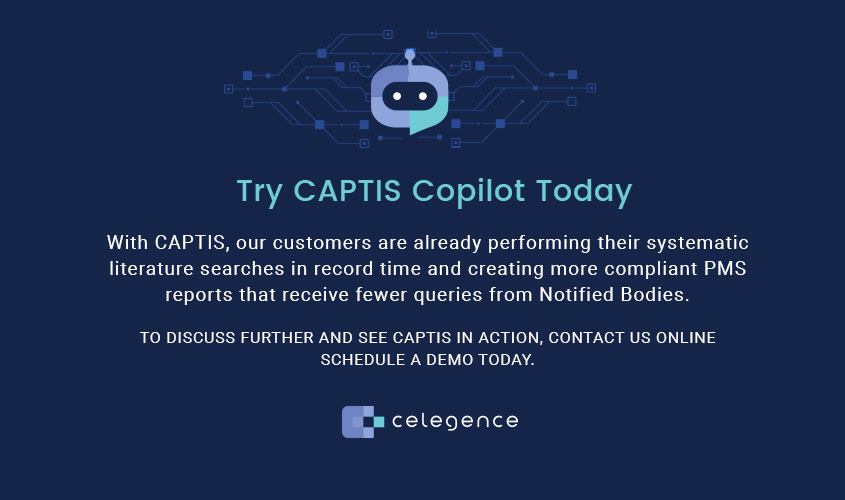 With CAPTIS, our customers are already performing their systematic literature searches in record time and creating more compliant PMS reports that receive fewer queries from Notified Bodies. We are so excited to deliver a practical AI solution to the industry through CAPTIS so that device manufacturers can focus more time on delivering innovative products to patients.
Hopefully, this answers some of your preliminary questions about the new AI assistant offered by Celegence, CAPTIS Copilot. To discuss further and see CAPTIS in action, schedule a demo today.
Access CAPTIS Webinar On Demand
Check out our behind the scenes look at CAPTIS in our exclusive on demand video to see how you and your business can benefit from CAPTIS.