Clinical Evaluations for Unique Product Types Under the EU MDR – Webinar
What: Webinar in coordination with RAPS examining the Clinical Evaluations for Unique Product Types under the EU MDR
When: Nov. 11th 2020, 11:00am – 12:30pm EST
Where: Online Event
How: Register online now
Why: To understand the new EU MDR requirements for Combination Products, Software as a Medical Device, and Legacy Devices.
The implementation of the EU MDR will result in expanded Clinical Evaluation requirements for all EU marketed devices. There must be special attention paid to unique products as the MDR's regulatory framework is contingent on the type of product. Combination products, legacy devices, and software as a medical device (SaMD) products will all be subject to increased regulations. Additionally, your team must be prepared to adjust your regulatory processes to encompass the necessary changes as RA teams will prepare their Clinical Evaluations under these guidelines for the first time.
Dr. Matthias Fink is board certified orthopedic and trauma surgeon with over 17 years of experience in orthopedic, trauma and reconstructive surgery and extensive training in cardiovascular and thoracic surgery. He has expert knowledge in the field of orthopedic implants and cardiac devices. Dr. Fink has also worked as a Clinical Reviewer for the Clinical Centre of Excellence for TÜV SÜD Product Service in Germany before joining TÜV SÜD America in 2017. He is the Global Team Leader for the Ortho, Trauma and Dentistry Team within the Clinical Centre of Excellence of TÜV SÜD and the Team Manager of the Clinical Focus Team in North America. He has been a presenter at national and international conferences on the clinical requirements and the implementation of the EU MDR. Dr. Fink is also an external trainer on clinical and post-market aspects under the MDR for TÜV SÜD America. During his clinical career he has been an investigator and co-investigator in national and international clinical studies for medical devices and Phase III and IV clinical trials for pharmaceuticals.
Dr. Pratibha Mishra is an Associate Manager, Medical Device Services, at Celegence leading a team of qualified medical writers. She has a Master's degree in Oral Medicine and Maxillofacial Radiology and has written and reviewed regulatory documentation for Medical Devices covering a wide range of therapeutic areas – dentistry, ophthalmology, thoracopulmonology, gastroenterology, endoscopy, urology and dialysis, general surgery, electrosurgery, female reproductive health, cosmetic surgery, diagnostic and interventional radiology, and cardiology. Dr. Mishra's team has successfully conducted clinical evaluations for complex devices including Software as Medical Device (SaMD) and Drug-Device Combination Products. She is experienced in developing MDR compliant templates for CER, CEP, PMCF Plan, and PMCF Report, and drafting responses to Notified Body observations on clinical evaluation.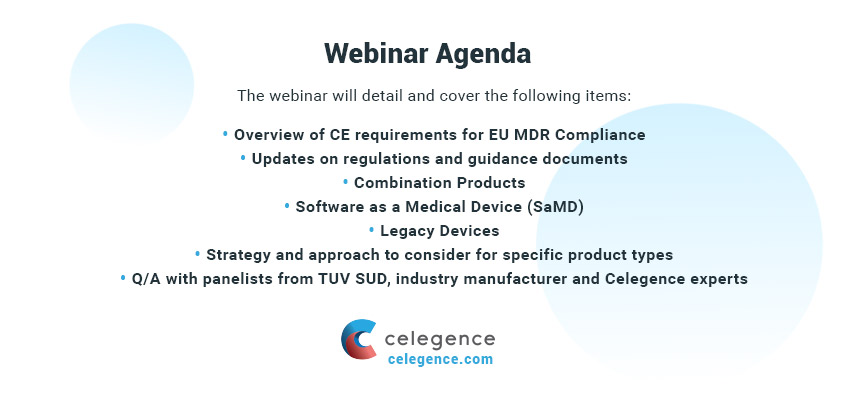 Webinar Agenda: Clinical Evaluations for Unique Product Types Under the EU MDR
The webinar will detail and cover the following items:
Overview of CE requirements for EU MDR Compliance
Updates on regulations and guidance documents
Software as a Medical Device (SaMD)
Legacy Devices
Strategy and approach to consider for specific product types
Q/A with panelists from TUV SUD, industry manufacturer, and Celegence experts
Quality managers
Regulatory manager
Technical writers
Operations manager
Design managers
Technical managers
Clinical manager
Authorized representatives in representatives in Europe
The Clinical Evaluations for Unique Product Types under the EU MDR webinar will be held on November 11th, 2020 from 11:00am-12:30pm EST. Register and secure your spot at the webinar by registering now.
Webinar Registration Is Open Now!

Is your organization facing hurdles regarding MDR certification? What about recertification under MDD? Join RAPS and Celegence for a webcast where regulatory leaders from global medical device companies will share their perspective and lessons learned regarding the challenges – both past and future – related to EU MDR.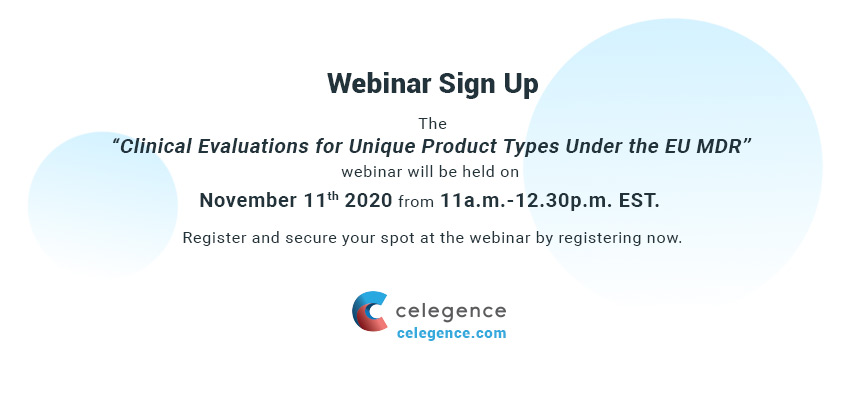 Celegence – Services and Solutions to Support the Life Sciences
As regulatory specialists, we work across all phases of the product lifecycle from regulatory strategy, authoring, and all aspects of established product maintenance, including submission management, publishing and health authority interaction. We leverage a global team of consultants to provide local regulatory insight, strategy and intelligence. We are happy to share our insights with you through the webinar and hope that you can join us then.