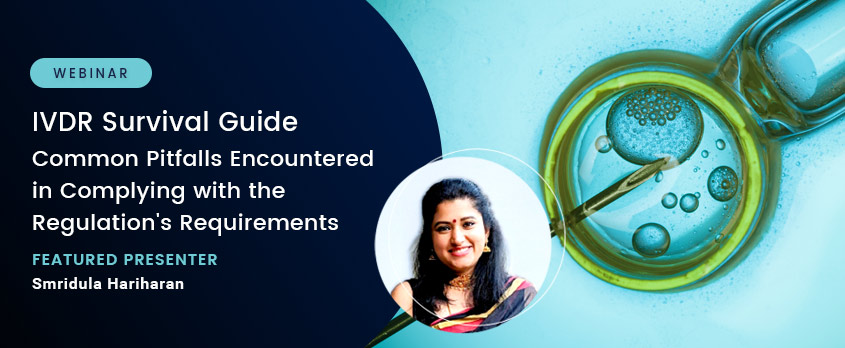 IVDR Survival Guide – Common Pitfalls Encountered in Complying with the Regulation's Requirements – Webinar
What: Webinar – "IVDR Survival Guide – Common Pitfalls Encountered in Complying with the Regulation's Requirements"
When: Thursday, April 27th 2023 at 9:30 AM CT
Where: Online Event
How: Register Here
Why: Join our medical devices/IVD expert, Smridula Hariharan who will walk us through practical steps to overcome common challenges in IVDR compliance, looking forward to it!
Webinar Background and Agenda:
This Webinar Will Cover:
Clinical performance studies for IVDs:

Applicable ISO standards to be complied with
Differences with the MDR requirements
Guidance's providing useful information

Post-market requirements & ensuring PMS is gathered compliantly
How much evidence is enough for IVDs products
Literature evidence for IVDs:

Areas to consider while executing the searches
Best practices for analyzing & appraising the data
Validating the search protocol
This featured presentation will be led by Celegence's Medical Device/IVD RA Expert, Smridula Hariharan. Smridula will also be available after the presentation for a live Q/A session.
Celegence will be hosting the WEBINAR on Thursday, April 27th at 9:30 am CT. Register online now!
Webinar Featured Presenter – Smridula Hariharan, Deputy Manager
10+ Years of medical writing experience including medical devices and Invitro diagnostics. Experience spanning different therapeutic areas and all the different risk class of devices.
Authored and reviewed several Scientific Validity reports (SVR), Clinical performance reports (CPR), Analytical performance reports (APR), Performance evaluation plans (PEP) and Performance evaluation reports (PERs) for invitro diagnostics in compliance with IVDR.
Authored and reviewed several Clinical evaluation plans (CEPs), Clinical evaluation Reports (CER), PMS plans and reports, Periodic safety update reports (PSUR), Summary of Safety and Clinical performance (SSCP), Post market clinical performance plans and reports (PMCF), both MDD and MDR compliant.
Developed SOPs for PMS activities/ documents and templates for CEPs, CERs, SVRs, CPRs, PEP, PERs, PMS and PMCF plans and Reports in compliance with MDR and IVDR requirements.
Consults on responses and CAPAs to be implemented for NB queries and Major and minor non-conformities raised for CERs and PERs.
Webinar Learning Objectives
Hear the key insights and best regulatory approach for IVDR compliance
Examine examples and relevant case studies
Have your most pressing questions answered during the Q/A session
This webinar is aimed towards those working for companies in the life sciences industry, particularly manufacturers of IVDs, with a special emphasis on:
Regulatory Affairs Professionals
Quality Assurance Professionals
Medical Device Executives
Technical Writers and Managers
Clinical Managers
"IVDR Survival Guide – Common Pitfalls Encountered in Complying with the Regulation's Requirements" webinar will be held on Thursday April 27th, 2023, from 9:30 am – 10:30 am CT. Make sure you secure your place at the webinar by registering now.
Services and Technology Solutions to Support the IVDR Industry
Celegence has the expertise to provide support for all of your In Vitro Diagnostic (IVD) regulatory needs; from strategic consulting, registration, device classification, PERs, to in country representation. We have the wealth of knowledge to help you navigate through the complex challenges that IVD Regulation inherently brings.
For more information on how we can help you with IVDR requirements reach out to us at info@celegence.com, contact us online or read more about Celegence's IVD consulting services.